Bad Breath Treatment – Oklahoma City, OK
How to Stay Minty Fresh & Confident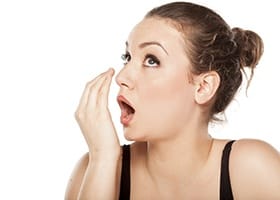 Never ask someone who likes you if you have bad breath. Odds are, they'll fib. If you really want to know the truth, ask a child. Or ask your dentist. Request an appointment at any time to ask us about how to eliminate your halitosis.
Halitosis (also known as bad breath) can affect anyone at any time. It is estimated that at one time or another, between 50% and 60% of the population are suffering from halitosis. The bad news is that it's offensive to most people. The good news is that now, more than ever, there are prevention methods and bad breath treatment. Most cases of halitosis are caused by bacterial tartar buildup in the mouth or tongue. These bacteria release volatile sulfur compounds (VSCs), which emit a smell similar to rotten eggs. Bad breath, in most cases, is easily treatable by Dr. Michael Kirk & Associates and our dental hygienists. Other cases may be a tip-off to a more serious medical condition, such as gum disease, tooth decay, diabetes, kidney disease, or liver failure. Your first appointment for bad breath treatment will include a comprehensive oral evaluation and medical/dental history review to screen for any of the conditions that may cause bad breath. During your checkups, we will instruct you on proper techniques to prevent and treat halitosis.
Other tips to help you reduce bad breath:
Brush after meals and floss teeth daily.
Clean your tongue daily.
Rinse with an ADA-approved fluoride mouthwash.
Keep your mouth moist. Saliva is necessary to clean the mouth and remove food particles.
If you have bad breath, keep a log of all the foods you eat for one week and contact us to request an appointment.
Call our patient care coordinator at or email us to reserve your bad breath treatment consultation. Grand Dental Studio is conveniently located for patients who live or work in the greater OKC area. However, if you plan to visit us from outside the Oklahoma City area, we will gladly help arrange your travel plans, schedule, and ancillary needs.