Meet Your Oklahoma City Dental Team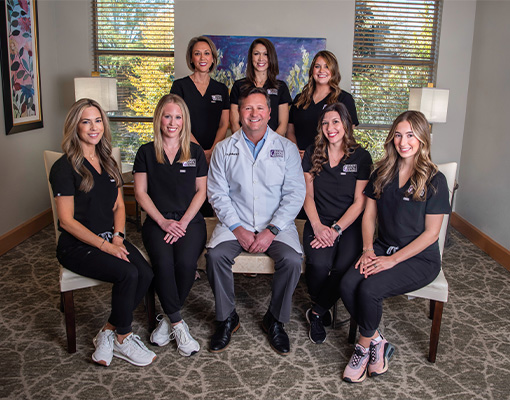 Each member of our dental team was handpicked by Dr. Kirk based on their training, experience, and friendly personality. Whether you're scheduling an appointment, have questions about a treatment, or need help with your dental insurance benefits, they'll provide exactly what you need quickly and efficiently so your dental experience is always smooth and easy. They'll help your appointments fly by and are ready to do anything they can to improve your time with us. Read on below to learn more about the friendly faces here at Grand Dental Studio.
Laila - Registered Dental Hygienist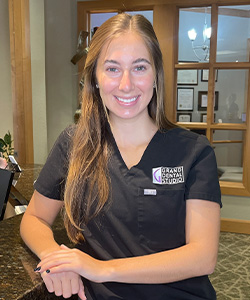 Originally from Edmond, Oklahoma, Laila attended Heritage Hall School and the University of Oklahoma and is a Registered Dental Hygienist.
Laila loves going on runs, good movies, and traveling. She spends her free time with friends and family. She has a Bernese mountain dog named Floyd and is a big Pink Floyd fan! Laila is warm and friendly with her patients. She says she loves to make people laugh and smile and ultimately make their day better!
Madison - Registered Dental Hygienist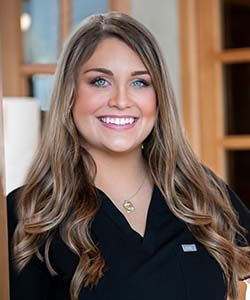 Originally from Edmond, Oklahoma, Madison recently joined the Grand Dental Studio team. She had a big couple of years! She completed the University of Oklahoma Dental Hygiene program and got married to her high school sweetheart. The couple has a young Australian Shepherd named Sterling.
Madison loves to travel, especially going to the beach. She spends her free time with family, friends, and her dog. Madison brings quiet comfort to her patients and always strives to make people feel relaxed.
Arden - Registered Dental Hygienist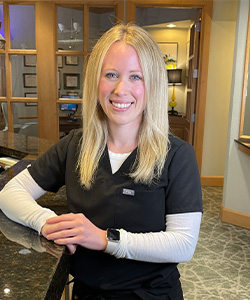 Originally from Muskogee, Oklahoma, Arden brings her beautiful smile to the Grand Dental Studio team. She attended the University of Oklahoma and is a Registered Dental Hygienist.
Arden enjoys taking walks, going to yoga classes, and traveling when she can. She loves to spend her free time with family and friends. Arden likes to make sure her patients are comfortable and relaxed during their dental appointments and loves the rewarding feeling of making a positive impact on each patient's oral health.
Stephanie - RDH & Clinical Office Administrator
At Grand Dental Studio, Dr. Kirk has always encouraged establishing great relationships with our patients. Stephanie says that she has had the honor of working for Dr. Kirk for nearly 20 years. A few years ago, Stephanie went from dental hygiene to being our office administrator and trainer. Originally from Whitesboro, Oklahoma, she has been married to Mike for 20 years, and they have two teenage boys. Stephanie is very active in her church and her sons' activities. Nothing makes her happier than watching her sons play baseball or basketball.
Christine - Dental Assistant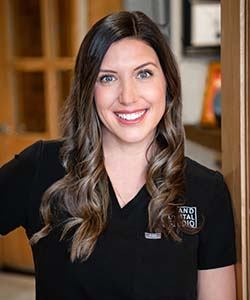 Christine has been with the Grand Dental Studio team for over seven years. She loves being able to offer amenities like headphones and blankets in order to help our patients relax. She has two children, and they enjoy going to movies, OKC Thunder games, and swimming. Originally from Weatherford, Oklahoma, Christine likes to keep things simple. She really enjoys the friendships she has made with team members over the years.
Amanda - Dental Assistant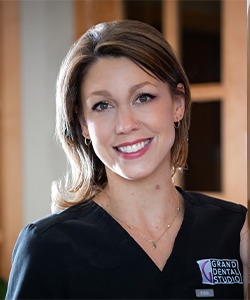 Amanda graduated in 2008 from her dental assistant program. She was President of her class! Amanda hails from Edmond, Oklahoma. She is obsessed with her animals. She has a cat and a dog! She also likes going to concerts, hanging out with her friends, and spending time with her Nana. Amanda really enjoys educating patients about their dental health.
Heather - Dental Assistant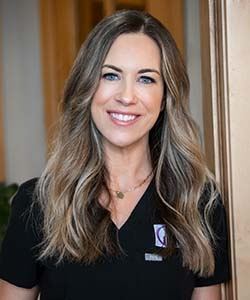 New to Oklahoma, Heather moved with her four children from Washington. She has been in dentistry for six years. You will meet her in our front office as well as in our treatment rooms. Her favorite thing about working in dentistry is getting to know people and ensuring they are comfortable during their visit. Heather says that Oklahoma City residents are so friendly. She likes how they make you feel like you have known them for years. Welcome to Oklahoma City Heather!
Sandra - Marketing Director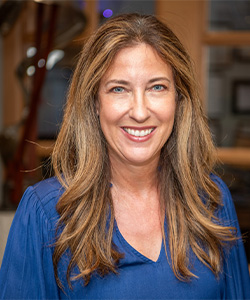 Sandra is passionate about delivering great customer service and loves articulating the mission of Grand Dental Studio. Upon completing her MBA, she worked in healthcare marketing and information technology for over 10 years. When she met Dr. Kirk, she knew he had a vision for customer service that was different and unique. Sandra is the marketing director for Grand Dental Studio as well as El Reno Family Dentistry. However, her main focus is raising a family. She is also very active in the arts community of Oklahoma City. Sandra enjoys reading, walking, practicing yoga, and taking ballet classes in her free time.
Tonya Morris-Cameron RN, MMP
Aesthetic Medical Nurse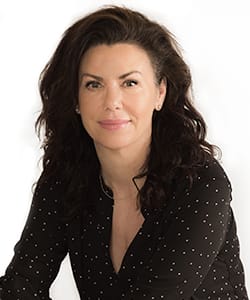 Tonya has been performing aesthetic medical procedures since 2006. Tonya W. Morris-Cameron RN MMP vast experience includes permanent makeup, microblading, scalp tattoo, dermal fillers, Botox for face and hyperhidrosis; Dysport, microneedling with PRP option for face and scalp hair restoration; Fibroblast Plasma Pen, lip fillers, dermaplaning, medical grade peels and skin care.
Many of you know what aesthetic services are now, and many have placed them firmly into our lifestyle must-haves. Tonya has been an aesthetic nurse in Oklahoma City for 14 years. Basic fundamentals were not enough for Tonya. She completed a second level of education before proceeding to more complex specialties. During this time Tonya has had the opportunity to work with leading physicians in Dermatology and Anti-Aging Medicine. Tonya has received advanced training and certifications all over the United States from leading Plastic Surgeons and Educators for Botox, Dysport, Juverderm, Sculptra, Restylane, Radiesse, NovaThreads, InnoPen and Platelet Rich Plasma. Tonya is focused on acquiring new knowledge and skills to safely help her patients be the best version of themselves.
When she isn't working, she is usually hiking with her dogs, outdoor rollerskating somewhere slightly dangerous, listening to great music and filling her belly with healthy foods from around this wonderful planet.
Contact Tonya through her website & 405-202-4427