Digital Imaging – Oklahoma City, OK
Better Technology, Better Care
One of the biggest issues a dentist has to negotiate is simply being able to see within a patient's mouth. It's much harder than you might think! Fortunately, modern technology has made it much easier for our team to get a closer look at our patient's teeth and gums. With the technology listed below, we're able to find, diagnose, and treat dental issues faster than ever, helping patients get the high-quality care they need in record time.
Bite Analysis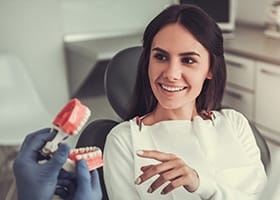 Is your bite out of balance? It can be hard to tell until serious problems develop in your teeth and TMJ (jaw joint). With our digital bite analysis, we can quickly determine if your jaws are in alignment as well as find trouble spots we can fix. This device is great both as a preventive measure as well as a diagnostic tool for those dealing with chronic jaw pain, teeth grinding, or headaches.
Digital Impressions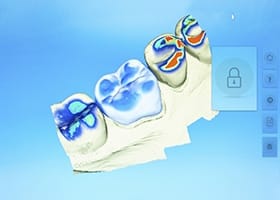 We use impressions of the bite to design a wide variety of treatments ranging from dental crowns to Invisalign, and if you've ever had one taken with traditional dental putty, then we're sure it was far from your favorite experience! The goopy mess causes many patients to gag. Now, we can create a fully 3D impression with the help of a small scanner that fits easily into the mouth. It captures multiple images of the teeth and gums from all angles that are then "stitched" together to create a highly detailed image. This process is much faster and comfortable than the regular one!
3D Oral Images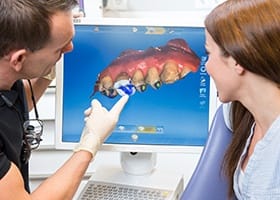 When diagnosing TMJ-related issues or planning complex procedures like dental implant placement, we need to gain a global understanding of a patient's dental anatomy. For this, we have a device that can create a 3D image of the mouth, jaw, and surrounding oral tissues. This helps us understand the relationships between the different elements of a patient's dental structures, enabling us to create very precise treatment plans for each and every person.
Digital X-Rays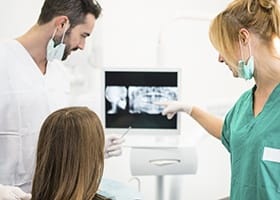 Many patients are concerned about dental X-rays because of the amount of radiation they emit, but with digital X-rays, this no longer needs to be a concern. Compared to traditional, film-based X-rays, digital X-rays expose our patients to 80% LESS radiation, plus they can create images in much less time. And, we're able to easily manipulate the X-rays just like any other digital image. We can zoom in, color-code, and rotate an image so we're able to see every little detail and help patients understand what we're looking at.
3D CBCT Scanner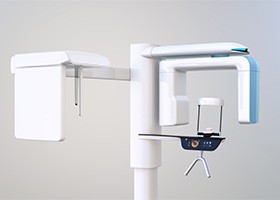 Our CBCT (cone beam computed tomography) scanner is the premier diagnostic tool in dentistry today. It's able to create an extremely detailed 3D model that includes all of a patient's teeth, both jaws, as well as adjacent structures (like nerves), and this provides invaluable information when it comes to surgical planning, pathological diagnostics, and simply explaining to someone what is going on with their oral health. With this instrument, we're able to know and see basically everything to ensure that your treatment is guaranteed to be smooth and successful.