Dental Implants – Oklahoma City, OK
State-of-the-Art Tooth Replacement
For people with missing teeth, even the simplest daily tasks can become uncomfortable or painful. Speaking feels awkward, food choices are limited, and smiling can seem impossible. To help patients in this situation, the team at Grand Dental Studio is able to offer the most complete solution available today: dental implants. With this one treatment, we can help a patient rebuild their smile for a lifetime, restoring their confidence in the process. To learn more about this treatment and what it could do for you, contact us today.
Missing One Tooth?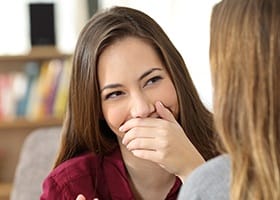 A dental implant is actually a small titanium post that is placed directly into the jawbone to replace the root structure of a lost tooth. Once there, it can be used to support a number of restorations that show in the smile. For those missing a single tooth, an all-porcelain crown can be attached directly to an implant post to fill in the gap. Because this new tooth will have the same two-part structure as the natural ones surrounding it, it will completely blend into the smile both aesthetically and functionally.
Missing Multiple Teeth?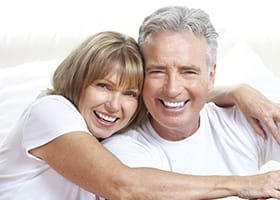 Fortunately, dental implants can be used to replace more than just one tooth! With an implant bridge, our team can easily restore multiple missing teeth in a row without having to sacrifice the neighboring healthy teeth (like with a traditional bridge). Two implant crowns are positioned on either side of the missing ones, and these are bonded to prosthetic teeth that fill in the gap. Compared to a regular bridge, an implant bridge looks more natural and can be trusted to last longer as well.
Missing All Teeth?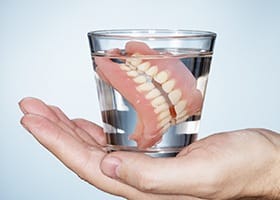 Do you have an ill-fitting denture that is constantly shifting around in your mouth? If so, dental implants can help you finally have a set of teeth you can trust. Implant dentures involve securing the prosthetic teeth directly to the jawbone using multiple implant posts. As a result, they have a security and longevity a traditional removable denture simply can't match. Plus, implant dentures have also been shown to restore much more of a patient's bite strength, enabling them to enjoy a more varied (and healthier) diet.
Understanding the Cost of Dental Implants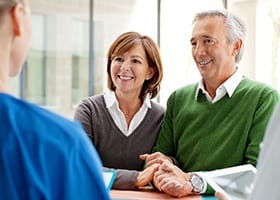 Dental implants are one of the most advanced treatments we offer, which causes some patients to worry that they might be too expensive. While implants do indeed cost more than traditional bridges and dentures upfront, they are actually the most cost-effective option thanks to their longevity. Typically, bridges and dentures need to be completely replaced every 7-10 years max, while dental implants can easily last for 30 or more with the proper maintenance. Over time, this results in a much lower cost for patients.