INVISALIGN CLEAR BRACES – OKLAHOMA CITY, OK
Get Straighter Teeth without the Metal
Grand Dental Studio offers Invisalign clear braces for patients who want straighter teeth without the hassle of having to wear traditional metal braces with brackets and wires. FDA-approved Invisalign is the "invisible" way to straighten your teeth and involves a series of clear, custom-made aligners to reposition them over about 12 to 18 months. Because you can remove the Invisalign aligners before you eat and drink, there are no food restrictions or problems with flossing or brushing.
Invisalign clear braces are suited for older teens and adults who want to maintain a sophisticated appearance while undergoing orthodontic treatment. Keep reading to see why tens of millions of patients around the world chose to get the smiles they've always wanted with Invisalign.
How Invisalign Works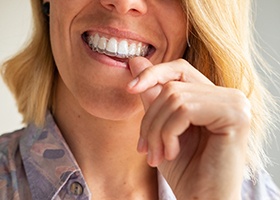 Invisalign relies on the same basic principle as braces to shift the teeth, in that the aligners apply a small amount of pressure that directs them toward their ideal positions. The path each tooth takes toward its new position will be dictated by the treatment plan designed by your dentist.
We use 3D computer imaging technology to design a complete Invisalign treatment plan from start to finish. Each aligner in your series should be worn for about two weeks, 22 hours a day for optimal results. Every six to eight weeks, you'll come in for a progress check at Grand Dental Studio so your dentist can make sure everything is progressing as it should.
How Invisalign Can Help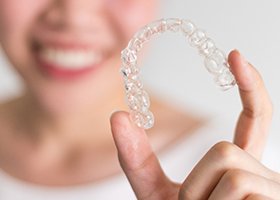 Invisalign has been used to correct a wide array of orthodontic issues over the last few decades, ranging from the simplest to the most complex:
Crowded Teeth
Crowded teeth are the most common reason people get orthodontics, and they can develop for a multitude of reasons. Thankfully, Invisalign cannot only space out bunched-up teeth, but rotate them as well to create a pristine and balanced result.
Gaps Between Teeth
Gaps not only cause someone to feel self-conscious, but they can also lead to speech problems and even make someone more likely to develop gum disease. Invisalign is able to move teeth closer together to permanently remove unwanted spaces.
Bite Alignment
In previous generations, patients with bite issues like overbite or underbite couldn't use Invisalign, but that is no longer the case! In addition to improving the alignment of the individual teeth, it can address common bite problems as well to improve chewing, speaking, aesthetics, and help with TMJ-related pain.
The Benefits of Invisalign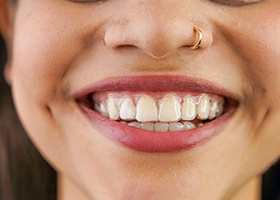 Subtle Appearance: After you put on your Invisalign aligners, they practically disappear, meaning you don't have to worry about friends or coworkers noticing your treatment.
Flexibility: You can eat whatever you like and clean your teeth like normal with Invisalign. Just pop your aligners off and put them back when you're done.
Comfort: The smooth plastic is custom-made to fit in your mouth, so it doesn't cause the irritation that is common with metal braces.
How Much Does Invisalign Cost?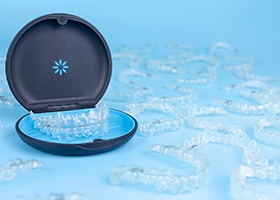 Because each Invisalign treatment is highly individualized, there isn't a fixed cost. Factors like the starting position of your teeth and the number of aligners needed to achieve your desired result will influence the final price, and we'll also discuss how we can use your insurance or financing to make treatment easily affordable.