TMJ Therapy – Oklahoma City, OK
Treatment for Chronic Jaw Pain & Headaches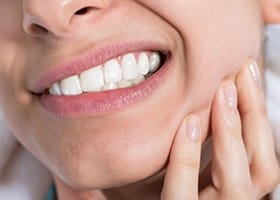 Neuromuscular dentistry differs from "traditional" dentistry in that the emphasis involves the activity of the joints that move the jaw, as well as related nerves and muscles. Dr. Michael Kirk & Associates can treat a multitude of problems that surface when teeth, jaws, and muscles don't work in harmony. Symptoms include headaches, loose teeth, jaw pain, cracked teeth or fillings, clenching or grinding teeth (bruxism), clicking and popping in joints, shoulder, neck, and back pain, numbness in arms and fingers, sensitivity in teeth, crowded teeth, receding gums, and many others. We offer several conservative approaches to TMJ treatment, with the focus on relieving pain and restoring your muscles and joints to a relaxed state.
Utilizing a small, custom-made mouthpiece to keep your joints properly positioned is one method. Another is allowing a patient to experience the healing and comforting T.E.N.S. (Transcutaneous Electrical Neural Stimulation) unit. This device delivers a mild electrical impulse to the muscles that move the jaw. This rhythmic pulsing relaxes the muscles and sets up ideal function by increasing blood flow and flushing out toxins. In the event your situation requires greater measures to eliminate your pain, Dr. Michael Kirk & Associates are highly skilled and experienced in restorative services and full-mouth reconstruction.
Call our patient care coordinator at or email us to reserve your personal TMJ or neuromuscular dentistry consultation. Grand Dental Studio is conveniently located for patients who live or work in the greater OKC area. However, if you plan to visit us from outside the Oklahoma City area, we will gladly help arrange your travel plans, schedule, and added needs.