Dentures-Oklahoma City, OK
Your Smile's Best Days Are Ahead
You've probably known what dentures are since you were a child, and thankfully, the prosthetics of today are much more natural-looking, comfortable, and secure than those your parents or grandparents might have had. If you're missing several or even all of your teeth, the team at Grand Dental Studio can provide you with a custom-made denture in Oklahoma City that renews your smile and confidence at the same time, giving your oral health and appearance a new lease on life.
WHY CHOOSE GRAND DENTAL STUDIO FOR DENTURES?
We Follow the Golden Rule
Multiple Options to Ensure the Perfect Look & Fit
Dental Implant Placement & Restoration Completed Under 1 Roof
Who Is a Good Candidate for Dentures?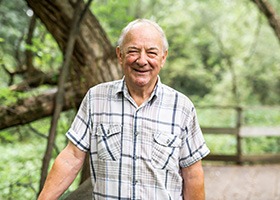 If someone is missing a single tooth, they are more likely better suited to getting a dental bridge or an implant crown. We typically recommend dentures to patients who are missing multiple or several teeth and even those who have no natural teeth left. If you're struggling to eat, speak, and smile like you used to because of tooth loss, the right denture can make all of these problems disappear and ensure you never have to think about your teeth twice while living your day-to-day life.
Types of Dentures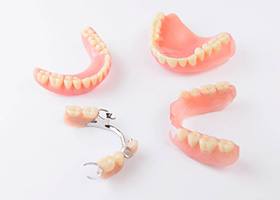 No two cases of tooth loss are the same, and neither are the needs of individual patients, so we offer multiple types of dentures so we can provide the perfect solution in any situation.
Partial Dentures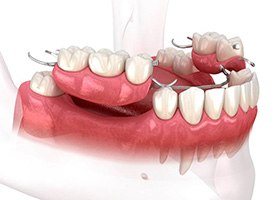 A partial is designed to fit between remaining healthy teeth while closing the gaps like the missing piece of a puzzle. A gum-colored base is designed to hold a unique orientation of teeth that seamlessly fit into where they are needed. To stay in place, the base has small clips that gently wrap around natural teeth and offer support.
Full Dentures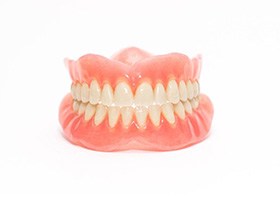 This is the classic denture that most people think of when they hear the word. Full dentures are used to bring back an entire row of teeth at once, with the base staying firmly in place thanks to natural suction (and a little denture adhesive if necessary). These can create dramatic results for patients with an empty dental arch when it comes to function, aesthetics, and health.
Implant Dentures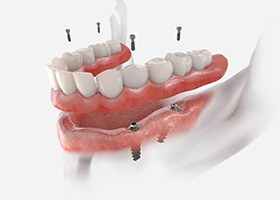 Instead of just sitting on top of the gums, implant dentures are anchored directly to the jawbone using a small number of tiny titanium posts (usually about four to six) that act like new tooth roots. This not only makes the new teeth extremely stable, but the stimulation from the implants also prevents the jawbone from shrinking as time goes by. This helps a patient maintain a youthful facial appearance and reduces the need for denture maintenance.
How Dentures Are Made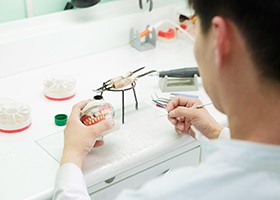 The process of getting dentures happens over the course of multiple appointments, and it's designed to help your dentist give you a set of new teeth that not only looks natural, but fits securely and can be trusted to last. After you and your dentist decide that a denture would offer the best way to restore your smile, here's what happens.
What Are Dentures Made Of?
You probably remember hearing about how George Washington's dentures were made out of all sorts of materials, but thankfully, dentistry has come a long way since then.
Today's dentures are made up of two parts—the base and the teeth themselves. The base is what sits against the gums and is designed to resemble gum tissue to give it a lifelike appearance. It can be made of acrylic, nylon, porcelain, or resin. It is shaped to match the contours of a patient's mouth, and with partial dentures, there may be a metal skeleton underneath that has clips that attach to nearby natural teeth for support.
The teeth themselves are often porcelain because it is extremely strong, durable, and can be shaded to perfectly match the color of remaining teeth (if necessary). The goal is for them to be both aesthetically attractive as well as functional, enabling a patient to eat a wide variety of foods with ease.
The Denture Creation Process
Whether you and your dentist decide that a full, partial, or implant denture would be right for you, the process will begin with a consultation that will involve your dentist examining your mouth, taking some scans and measurements, and discussing your goals. Primarily, they want to make sure that your mouth is healthy enough to support the prosthetic, in that it is free of any infections or damaged teeth. Gum disease therapy, extractions, or dental implant placement might be recommended before you get your denture to ensure it has the best chance of success.
When your dentist decides that your mouth is ready, they will take a digital impression of your gums/teeth and bite. This will be sent to a dental lab that will use the information to design a mockup of your denture to try on, plus they'll create a temporary denture so you have teeth as soon as possible.
You'll return to our office to try on the mockup, and any adjustments necessary will be noted and conveyed back to the lab. You'll leave the first appointment with your temporary denture, and once you and your dentist love the look and feel of your mockup, it will be used to cast your permanent denture using the materials we touched on above.
All of this usually takes a matter of weeks to complete, and when your denture is ready, you'll return to our office one final time to have it fitted into your mouth. Your dentist will check your bite and a few other aspects before you're all good to go.
Adjusting to Your New Dentures
It's important to know going into this that your dentures won't feel exactly like your real teeth starting on day one. People typically require about three to four weeks of adjustment to get used to eating and speaking with them. Thankfully, sticking to a soft food diet at first, cutting food into smaller bites, and practicing by reading aloud (or singing in the shower!) is all that's needed to help a patient start to be comfortable. Of course, if the denture still doesn't fit well or is causing some soreness weeks after someone has gotten it, they are always welcome to reach out to us so we can make adjustments if needed.
The Benefits of Dentures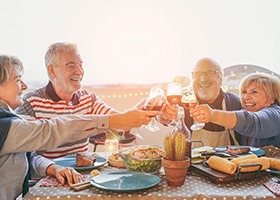 You'll enjoy all sorts of improvements to your life when you choose to get a denture:
A stronger bite makes it easier to eat a wide variety of foods.
Better chewing lets you get more nutrients from your diet, strengthening overall health.
Certain words and syllables will become clearer, as will all of your speech.
Dentures protect sensitive gums from being exposed to pressure that can cause pain and sores.
Reduced risk of infections and additional tooth loss.
A renewed appearance that makes you look years younger.
Peace of mind that your smile is attractive and makes the right impression.
Support for your cheeks and lips makes the skin appear smoother