Gum Disease Therapy – Oklahoma City, OK
Saving Patients from Tooth Loss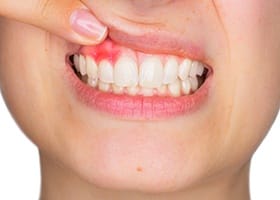 Healthy gums form the foundation for a healthy mouth. When gum disease is present, however, they can become swollen, tender, or even bleed easily when you brush your teeth. In some cases, no symptoms exist and a patient has no idea that their gums are infected.
Three out of four people over the age of 35 have some form of gum disease. Caused by a buildup of bacteria and debris in the gum area, gum disease can cause tooth loss and has been linked to increased risk for serious conditions, such as heart disease, stroke, diabetes, pre-mature births, and dementia.
The good news? Gum disease can be treated and prevented. Therapy includes the use of special toothbrushes, toothpastes, rinses, and prescription medications. Your Grand Dental Studio dentist or hygienist can evaluate and monitor the condition of your gums during routine checkups. We also offer scaling and root planing, non-surgical treatment for early-stage gum disease. Our gum disease management program includes:
Charting and diagnostics services
In-office non-surgical periodontal therapy
Referral to specialists when necessary
Call our patient care coordinator or email us to reserve your personal consultation if you show symptoms of gum disease. Grand Dental Studio is conveniently located for patients who live or work in the greater OKC area. However, if you plan to visit us from outside the Oklahoma City area, we will gladly help arrange your travel plans, schedule, and other needs.