Cosmetic Dentistry – Oklahoma City, OK
Perfecting Oklahoma City Smiles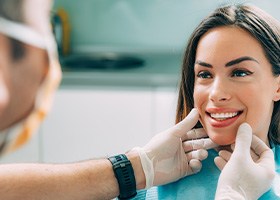 Do noticeable stains, chips, cracks, or gaps in your teeth cause you to think twice before smiling, speaking, or even taking a big bite of food? If so, our cosmetic dentistry treatments can easily make any flaw you can imagine disappear, giving you the big, bright, and beautiful smile you deserve. Working with Dr. Michael Kirk & Associates, we can help you put together a plan to achieve the smile of your dreams in just a few simple appointments. To get started, contact us today for a consultation.
Porcelain Veneers & Lumineers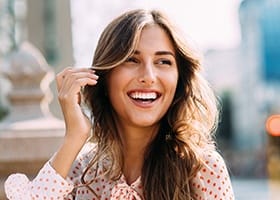 Veneers and Lumineers are extremely thin ceramic shells that are fitted to the front of the teeth, and with them, our dentists can eliminate a wide variety of aesthetic flaws all at the same time, including:
Stains that don't respond to bleaching
Chips
Cracks
Gaps
Misshapen teeth
Undersized teeth
Slightly crooked teeth
Veneers offer a more permanent and durable treatment, while Lumineers can be placed and changed in much less time. Whichever one you choose, they can both deliver beautiful and natural-looking results you'll be able to enjoy for many years to come.
Learn About Veneers & Lumineers
Invisalign Clear Braces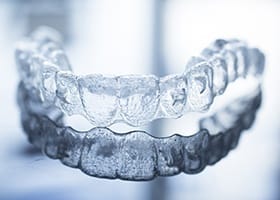 If you've always wanted to straighten your crooked teeth, now you can without the hassle of traditional braces. Invisalign uses a series of custom-made clear plastic aligner trays to move the teeth in the most comfortable and discreet way possible. The trays are practically invisible when worn on the teeth, and whenever it's time to eat or brush, a patient can simply take them out. This is the kind of treatment that no one will notice until it's finished!
Teeth Whitening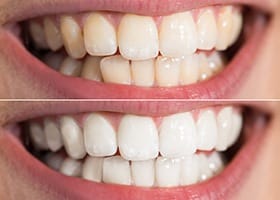 Has your love of coffee or wine caused your teeth to stain over the years? Has your smile noticeably darkened and discolored as you've gotten older? If so, then we can quickly restore that youthful glow to your teeth with our selection of professional-grade whitening treatments. You can have your smile dramatically whitened in just an hour with our in-office treatment, or we can give you your own customized-kit so you can effectively whiten whenever and wherever you want. Either way, both treatments can easily make your teeth six, seven, or even EIGHT shades brighter!
Tooth-Colored Fillings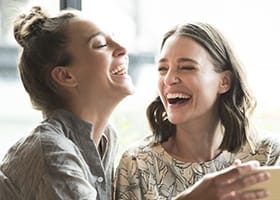 Thanks to tooth-colored fillings, we're now able to repair small cavities and slightly damaged teeth and NOT alter their appearance in the process (unlike a traditional silver filling). They are made of a composite resin material that can be color-matched to perfectly blend with a patient's enamel. As a result, the restoration becomes practically invisible in the mouth. And, because these fillings are 100% metal-free, they don't make the teeth more sensitive to hot and cold temperatures either.
Learn About Tooth Colored Fillings
Laser Dental Therapy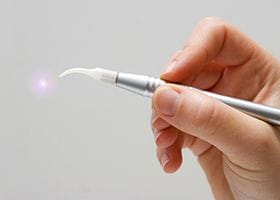 Dental lasers give our team the ability to quickly whiten the teeth and even provide painless gum lifts to help those with a "gummy" smile. This device generates an extremely concentrated beam of light, and with it, we can break up stubborn stains and remove excess gum tissue to reveal beautiful, previously hidden dental structure. Even better, the laser generates very little heat, sound, or vibration, making any procedure a very comfortable experience.
Cosmetic Dentistry Frequently Asked Questions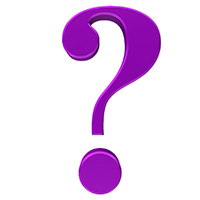 Choosing to undergo any procedure that will change the appearance of your smile is a big decision, so it's understandable if you have questions! Before reaching out to our office, be sure to look over our answers to some of the most common questions we receive about the subject below. If you'd like to know more about anything we haven't covered here, you're always welcome to give us a call.
Can I get cosmetic dentistry to fix a cavity or cracked/broken tooth?
While popular cosmetic procedures like veneers, bonding, and metal-free crowns can be used to fix chipped, cracked, or broken teeth, they can't help with a cavity. While they would make the tooth appear healthy, the underlying decay would still be present following the procedure, meaning the damage and pain would only get worse. Typically, if a patient has a cavity, this will need to be addressed first before a cosmetic procedure can be completed. This will not only restore the health of the tooth, but also make sure the result lasts much longer!
Is cosmetic dentistry covered by dental insurance?
In most cases, cosmetic dental procedures are NOT covered by dental insurance because they are elective treatments. However, if a cosmetic procedure is being used to fix a broken, chipped, or cracked tooth, some insurance plans may cover part of it. Also, more and more plans are starting to offer coverage for Invisalign. Fortunately, we offer financing through CareCredit so that patients can break up any costs into smaller installments with little-to-no interest so that their new smile will be easily affordable.
How long do the results last from cosmetic dentistry?
Depending on the procedure, the results of a cosmetic treatment can last anywhere from a few years (like with teeth whitening) to multiple decades (like with veneers or crowns). Fortunately, the patient has a lot of control in this regard—taking great care of the teeth at home with consistent brushing and flossing along with routinely coming in for checkups and cleanings can significantly extend the lifetime of a procedure.
Will I need to change how I take care of my teeth after getting cosmetic dentistry?
That largely depends on how you take care of your teeth now! To ensure your results last as long as possible, we recommend:
Brushing two times a day for at least two minutes each
Flossing once a day
Visiting Grand Dental Studio for checkups and cleanings twice a year
Avoiding extremely hard or sticky foods that could damage the teeth
Wearing a protective mouthguard when playing sports or if you grind your teeth at night
You might notice that these are considered to be the best practices whether you've had cosmetic work done or not! These will preserve restorations like veneers or porcelain crowns and prevent staining after whitening so that a patient's new look can be trusted to stand the test of time.