Porcelain Dental Crowns – Oklahoma City, OK
Make Smile Flaws Disappear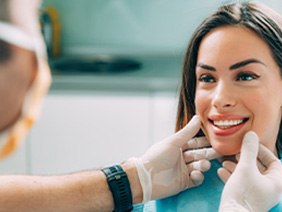 We all care about our image, and there's no reason to let dental work interfere with a white, beautiful smile. The cosmetic and restorative dentists at Grand Dental Studio prefer to place white crowns, instead of metal, whenever possible. In most cases, a porcelain crown can provide the beauty and strength you want. However, back teeth incur so much pressure that porcelain-fused-to-metal crowns are often necessary.
If Dr. Michael Kirk & Associates recommend a dental crown to restore your tooth, the procedure will take two visits. We use a respected dental lab and experienced ceramists who make custom crowns, inlays, and onlays from esthetic, durable dental materials.
Call our patient care coordinator or email us to reserve your crown and restorative dentistry consultation. Grand Dental Studio is conveniently located for patients who live or work in the greater OKC area. However, if you plan to visit us from outside the Oklahoma City area, we will gladly help arrange your travel plans, schedule, and other needs.