Restorative Dentistry – Oklahoma City, OK
The Answer to Damaged & Missing Teeth
Over time, normal wear and tear, dental decay, and even accidents can leave the teeth looking and feeling far from their best. If you have one or a few teeth in need of repair (or replacing), then Dr. Michael Kirk & Associates are ready to provide the custom-made restorations you need. Using the latest dental technology and the most lifelike materials, we can help even the most compromised smile look and feel like new again. To learn more about your restorative dentistry options and schedule an appointment, contact us today.
Dental Implants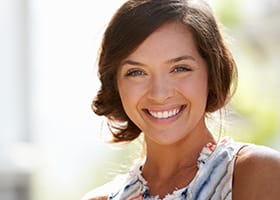 Whether you're replacing one tooth, multiple teeth, or all of them, dental implants are by far the best way to do it. They are the only treatment that fully restores a missing tooth both above and below the gum line, delivering a result that is the next best thing to nature. And, unlike many other local dental offices, we have the special training to perform the entire procedure so you can get the care you need without inconvenient referrals.
Porcelain Dental Crowns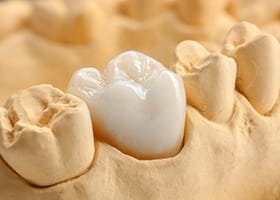 In the past, if a damaged tooth needed to be rebuilt, the only options were unnatural-looking gold and silver crowns. Fortunately, we're no longer in the past! Our office is able to provide crowns that are made of 100% dental porcelain. In addition to being extremely strong and durable, this material can also completely mimic the appearance of real enamel in every way. With it, our team can create a restoration that looks so realistic, even you will have trouble telling it apart from your real teeth!
Porcelain Dental Bridges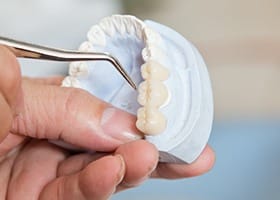 Bridges are one of the most tried and trusted ways to replace one or more missing teeth in a row, and using one made of dental porcelain, we can make it seem like the gap in a patient's smile was never there. Two porcelain crowns are placed on the teeth on either side of the missing ones, and these are used to support prosthetic teeth to fill in the space. With this kind of bridge, we can restore a patient's appearance and oral function at the same time.
Porcelain Inlays & Onlays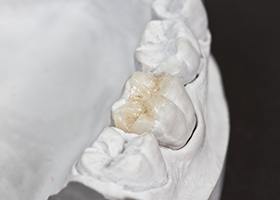 For a tooth that is too damaged to be repaired with a filling, but it doesn't require a full crown, we can use inlays and onlays to restore them in a very conservative way. Sometimes called "partial crowns," they serve as a middle-ground between these two treatments, and they enable our team to preserve more of a patient's natural dental structure while repairing it. Inlays are used to rebuild the interior of a tooth, while onlays can restore damaged biting surfaces, or cusps.
Dentures & Partials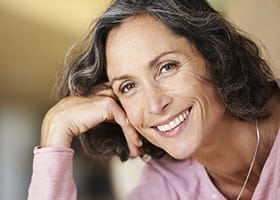 For patients missing multiple teeth, dentures have provided a reliable solution for over a hundred years. Now, thanks to the latest advancements in dental prosthetics, modern-day dentures look more natural and fit more comfortably than ever before. Whether you are missing just a few teeth or all of them, our team can give you a custom-made denture that will renew your ability to eat, speak, and smile with complete confidence again.
Learn About Dentures & Partials
Root Canal Therapy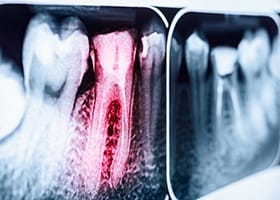 Every tooth is composed of distinct layers, and the innermost one is called the dental pulp. This is where the sensitive nerve of a tooth is located, and if it's ever exposed to bacteria, whether due to longstanding decay or trauma, it can easily develop an infection that turns into a very painful toothache. To relieve this pain and save the tooth from extraction, our team can provide root canal therapy. Your dentist will simply remove the damaged tissue, clean the tooth, and then replace its lost structure with a crown afterward. Thanks to modern-day dental techniques, most patients say that this procedure feels no more painful than getting a small filling.