Implant Dentures—Oklahoma City, OK
Complete Confidence with Every Bite
Today's dentures are nothing like the ones your parents or grandparents might have had. Now, instead of wearing a prosthetic that just sits on the gums, you can now get implant dentures in Oklahoma City. At Grand Dental Studio, we've seen this treatment turn back the clock and make patients struggling with several missing teeth and unstable dentures look and feel years younger right before our eyes. To learn why they have become incredibly popular over the last two decades, be sure to read more about them below. Or, you can go ahead and schedule an in-person consultation by clicking here.
What Are Implant Dentures?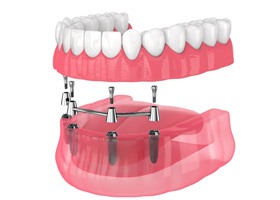 An implant denture, as you may have guessed, involves attaching the well-known prosthetic directly to the jawbone using four to six implants. These essentially serve as new tooth roots and provide a lot of stability for the new teeth. Implants can be combined with either a full or partial denture depending on the patient's need.
Fixed/Permanent Implant Dentures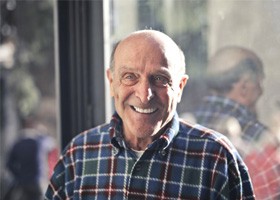 These implant dentures are secured in place and cannot be removed by the patient. This gives them a security that is more akin to natural teeth. Plus, the patient doesn't have to take out their denture to clean it. Essentially, they just have to brush and floss daily like normal.
Removable Implant Dentures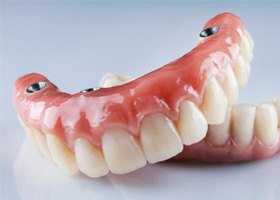 Even though the denture is held in place with dental implants, the prosthetic teeth themselves can snap on and off of them. Many patients enjoy the flexibility this offers as it enables them to clean the denture outside of their mouth and soak it. Plus, in some cases, this allows us to upgrade a patient's existing denture so it fits onto implants.
The Implant Denture Process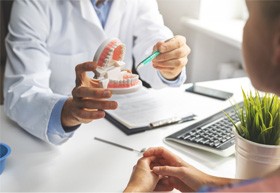 The process of getting a dental implant denture usually follows a straightforward path:
First, you'll have a consultation with one of our implant dentists where they'll talk to you about your goals, examine your mouth, and help you deicded if an implant denture would be a good fit for you.
If you both want to proceed, the next step will be undergoing the surgery in which the implants are placed into your jawbone
Over the next few months, the bone and implants will bond, making them both stronger. While this is going on, you'll wear a temporary denture.
When your mouth is ready, you'll be fitted with your new permanent denture.
Am I a Candidate for Implant Dentures?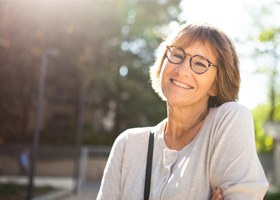 Virtually anyone with multiple missing teeth can be a good candidate for an implant denture as long as they have enough healthy jawbone to support the posts and their gums are free of infection. It's also important that a patient be fit enough to undergo oral surgery, so conditions like unmanaged diabetes, heart problems, and current medications will need to be discussed during the consultation to prevent any obstacles from popping up down the line.
Benefits of Combining Dentures & Dental Implants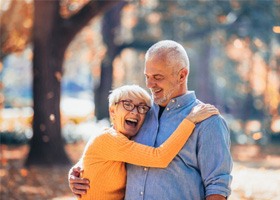 Dentures and dental implants are the perfect pairing, because when combined, they:
Ensure the teeth don't slip or slied like regular dentures
Look more natural compared to a traditional denture
Prevent the gums from becoming irritated or developing sore spots
Allow for a smaller prosthetic that leaves more room in the mouth
Enable a patient to get a denture that doesn't cover their upper palate
Makes speaking clearly easier
Restore up to 70% of someone's biting strenght
Protect the jawbone from shrinking over time
Have been shown to last mulitple times longer comared to bridges or regular dentures
Are easy to clean and maintain