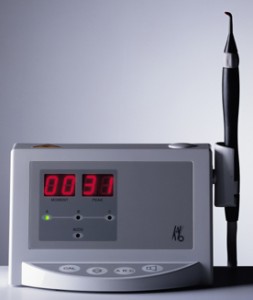 Cavities are a very common dental health issue. Despite our best efforts to brush and floss, sometimes they can still occur. The best way to treat cavities is to find them as early as possible. At Grand Dental Nichols Hills, we use DIAGNOdent technology to help detect cavities in their infancy.
DIAGNOdent is a small, portable dental laser that can detect cavities earlier than any of the previously existing detection methods. This is a real benefit, because the earlier a cavity is detected, the smaller it is and thus the easier it is to repair the damage.
Our DIAGNOdent laser will scan your teeth, using laser reflection to find imperfections in your teeth. DIAGNOdent will alert us with an audible signal when a cavity is detected. Then, it will generate a numerical readout to give us an indication of the size of the cavity. This tool is a great asset in our ongoing quest to provide our patients with the best dental care possible.
Interested in learning more about DIAGNOdent technology or one of our other services? Call us today at Grand Dental Nichols Hills to schedule your appointment! Our Oklahoma City dental office is conveniently located for patients who live or work in the greater OKC area.