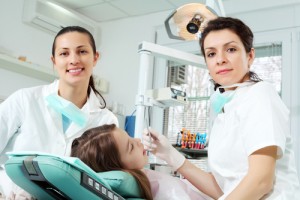 Sometimes, it's hard to get a clear picture of just how your teeth really look. At Grand Dental Nichols Hills, we have an intra-oral camera to help you see what we see when you're sitting in our dental chair.
We will use a special wand with a camera on the end that we will insert into your mouth. The intra-oral camera will take a video of the inside of your mouth and send the color images to a TV screen you can view from the comfort of the dental chair.
You'll be able to see your teeth, up close and in full color. While the idea of seeing your teeth from this view may seem a bit overwhelming at first, it can prove to be helpful to your dental health in the long run. You can get a clearer view of the impact your brushing and flossing habits have on your teeth.
Our dentists can point out areas of concern and make sure that you fully understand what you need to work on. Instead of just telling you to focus on flossing between two teeth because a cavity could develop, they can show you exactly which two teeth it is. An intra-oral camera is a great tool to help our patients better understand their teeth and achieve better oral health.
Interested in learning more about intra-oral cameras or some of our other dental technology options? Call us today at Grand Dental Nichols Hills to schedule your appointment! Our Oklahoma City dental office is conveniently located for patients who live or work in the greater OKC area.