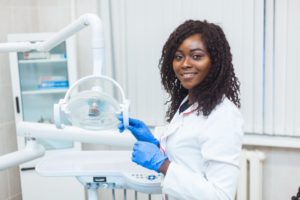 When talking about the history of dentistry in America, it's important to highlight the separate journey that Black Americans had to take in order to contribute to the profession and public health at large. While this blog highlights three prominent dentists in honor of Black History Month, it needs to be stated that they are just a small sample of a group of several figures whose accomplishments helped shape our country both in terms of oral health as well as civil rights.
Robert Tanner Freeman (1846-1873)
Robert Tanner Freeman has the distinction of being the first African American to earn a dental degree in the United States. This is even more impressive when you find out that he did so at Harvard University, and this was after he was rejected from two other schools solely based on his race. He went on to open a groundbreaking practice in Washington, DC in 1869, and today, the DC arm of the National Dental Association is called The Robert T. Freeman Dental Society to honor everything that he did.
Ida Gray Nelson Rollins (1867-1953)
Ida Gray Nelson Rollins had to overcome both race and gender barriers in her journey to become a dentist, but she eventually became the first African American woman to receive a dental degree in the U.S. Her interest in dentistry started while she was working under Dr. Jonathan Taft, who would go on to become the first dean of the University of Michigan School of Dentistry. Rollins continued to defy expectations throughout her life and eventually opened her own practice.
Miles Dewey Davis Jr. (1898-1962)
Dr. Davis' name probably sounds familiar to you, especially if you're a fan of jazz. He is the father of famed American trumpeter and composer Miles Davis, who influenced the direction and style of American music for over 50 years. Today's rock, pop, and hip-hop styles all share roots in Miles Davis' music, and he was able to get started largely thanks to dentistry. It was his father that bought him his first trumpet and paid for lessons with the principal trumpet of the St. Louis Philharmonic at the time. He was also the person who enabled Miles Davis to attend Julliard, which would eventually lead to his famous collaboration with a fellow music pioneer, Charlie Parker.
Needless to say, Black Americans are still making significant contributions to the dental world to this day, and it is due in no small part to the people highlighted above. They not only helped Black Americans, but the country at large, as their efforts helped promote improved oral health and dental knowledge that has brought us to where we are today.
About the Author
Dr. Michael Kirk is a family, cosmetic, and implant dentist that has served the Oklahoma City area for over 25 years. His goal with each patient is for them to feel welcome in his office, and then he uses his advanced skills and the latest technology to give them the comfortable, personalized dental care they deserve. To learn more about Grand Dental Studio or schedule a FREE First Visit™, click here.