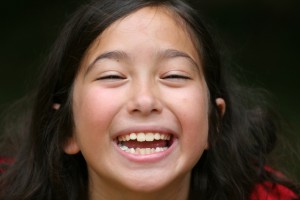 As your trusted family dentist in Oklahoma City, we've got a big reason to celebrate in February. That's because the month of love is also Children's Dental Health month! Of course we're focused on the health of your little one's smile all year long, but this month we'll be promoting awareness and sharing important information on how you can help set your child on the road to a lifetime of healthy teeth. Keep reading to learn more from Dr. Kirk and team today!
Three top tips for excellent oral health in children
Caring for your little one's teeth isn't all that different from maintaining your own — but there are some additional considerations to keep in mind. Follow these three simple tips and know you're doing the most for your child's smile!
#1: Start dental visits early
Your baby should have her first visit to the dentist around the time her first tooth erupts, or no later than her first birthday. It may seem early, but even that very first tooth is vulnerable to decay and infection. Plus, when you make visiting the dentist a priority from this young age, you're signalling to her that there's nothing to fear with good oral care.
#2: Maintain regular brushing and flossing
Your child won't be able to brush and floss her teeth by herself until she can tie her own shoes (around age 6). You'll need to help her until that day comes, but then continue to monitor her technique until you're sure she's doing an excellent job brushing and flossing, every single time. You can also help make oral hygiene fun by making it a family affair — having everyone brush and floss together in the morning and the evening.
#3: Underscore importance of moderation
Dr. Kirk knows all children will indulge in a sweet treat from time to time, and that's just fine — it's part of childhood! The key, however, is always moderation. Remind your child that it's fine to eat sweet snacks on a special occasion, but help them understand the effect sugar has on their teeth and overall health. This lesson is especially important around the holidays, when candy and treats abound.
Schedule your child's checkup and cleaning today
Has it been longer than six months since your little one's last visit to Grand Dental Studio? Her oral health depends on you to schedule and maintain her regular visits — so don't let them slip by! Contact us to schedule your or your child's appointment during Children's Oral Health month today.