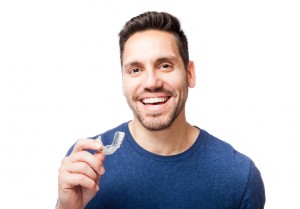 When gapped, crowded or otherwise misaligned teeth get in the way of your beautiful smile, it's time to act — and fast. Did you know you've got wonderful corrective options with cosmetic dentistry, right here in Oklahoma City? That's right. Dr. Michael Kirk, Dr. Janice Henry and the whole team at Grand Dental Studio are here to help you achieve the smile of your dreams with treatments like Invisalign, veneers or crowns in Oklahoma City. Keep reading to learn more about these services and more, and you can finally get the dazzling smile you deserve in 2016!
Straighter Teeth Are Within Your Reach in OKC
As your trusted cosmetic dentist in Oklahoma City, Dr. Kirk knows the best smiles are as beautiful as they are healthy. That's why he and his team are proud to offer several options for patients who need a little orthodontic attention. Teeth can be straightened with one of the following cosmetic services here at Grand Dental Studio.
Invisalign Perfects Oklahoma City Smiles
Often, adults find the idea of traditional metal braces as bothersome as the orthodontic issue itself. But you don't have to mar your smile with brackets and wires to achieve straighter teeth. Invisalign is an FDA-approved system that uses clear plastic aligners to gradually shift teeth into their preferred position — a comfortable, convenient and discreet method that allows you to undergo orthodontic treatment on your own terms.
Porcelain Veneers Instantly Enhance Teeth
When slight imperfections get in the way of your smile, like small but noticeable gaps, porcelain veneers may be the solution you need. Ultra-thin coverings made of porcelain, veneers are bonded securely onto your front teeth to restore their overall appearance. Our practice is proud to offer LUMINEERS, too.
White Crowns Restore Form and Function
When your teeth have been affected by a number of issues (front teeth that are gapped, chipped and discolored, for example) Dr. Kirk may recommend a beautiful white crown in Oklahoma City. Completed in two visits to Grand Dental Studio, this option provides the beauty and function your smile needs.
Bridges Replace Missing Teeth
If your smile is missing one or more teeth, a dental bridge can help you regain the stability you desire. This option fills the gap left by the missing tooth (or teeth) using the two surrounding natural teeth as anchors, which secure the prosthetic teeth in between.
Teeth Whitening Improves Your Restored Teeth
Once you've received the tooth restoration you've been dreaming about, don't think the improvements stop there! We can also discuss your options in teeth whitening to put the finishing touch on your dazzling smile.
Enjoy a More Beautiful Smile in 2016
Make this the year you finally do something to improve your smile. Find out which straightening option is perfect for you by booking your appointment with Dr. Kirk! We want to help you enjoy a healthier, stronger smile this year, and for many more to come.