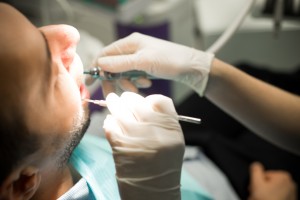 According to the Oral Cancer Foundation, the most effective way to control oral cancer is to diagnose and treat the disease in its earliest stages. This is likely no surprise. At Grand Dental Studio, our dentists and team are dedicated to offering patients superior preventive dentistry. That starts with great at-home hygiene and regular six month visits. When your dentist is familiar with your oral health history as well as family, environmental, and behavioral risk factors, he or she is more likely to diagnose oral cancer before it causes significant damage. Oral cancer symptoms are subtle and often undiagnosed or misdiagnosed by doctors who are less familiar with patients. Maintaining regular preventive dentistry checkups at Grand Dental Studio is one of the best ways to prevent oral cancer and other detrimental dental health concerns.

Striking Oral Cancer Statistics
As much as 90% of oral cancer sufferers used or were exposed to tobacco
25% of oral cancer patients exhibit no risk factors for the disease
Every hour one person dies from oral cancer
In 10% of patients, the dentist notices a problem before they do
57% of patients diagnosed with oral cancer live less than 5 years
Men are twice as likely to get oral cancer than women
Nearly 9000 people will die from oral cancer in 2015
Every patient over the age of 40 is at increased risk for oral cancer
What is Involved in an Oral Cancer Screening?
With numbers like those, we hopefully won't need to convince patients they should receive regular oral cancer screenings. At every six month checkup, our dentists visually examine the mouth looking for lesions, discoloration, sores, and other areas of concern. They then palpate (apply gentle pressure) to certain areas on the face and neck looking for irregularities. The process is quick and painless. In most cases, these six month screenings identify areas for concern in the earliest stages, but patients should still be aware of some of the warning signs:
Non-healing ulcers (red or white patches)
Swelling, enlargement, unusual surface changes
Oral bleeding
Hoarseness
Hardened areas
Airway obstruction
Earache
Find out more from Your Dentist in Oklahoma City – Grand Dental Studio
If you're concerned you may be suffering from oral cancer or it's time to schedule your six month checkup, contact Grand Dental Studio today. Our knowledgeable, patient-centered dentistry team is here to help Oklahoma City dental patients get the care they need.