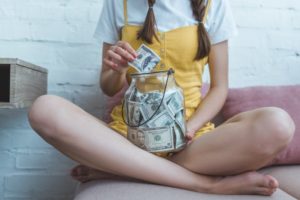 We've officially entered the holiday season, which means it's the perfect time of year to enjoy your favorite treats, listen to nostalgic music, and go to more parties than you can count. But, did you know this is also the perfect time to use your dental insurance in Oklahoma City? By going to the dentist before 2019, you'll easily be able to save hundreds on your dental care, but these benefits will be gone before you know it! What does this all mean? Read on to find out!
Use It or Lose It
Many dental insurance plans have what is called an annual maximum, which is the most a plan will pay for care within the calendar year. This amount is usually about $1,000 to $1,500. Most people don't even come close to using their maximum by the time the year ends, but once January 1st arrives, any leftover money will NOT rollover. That's right! Whether you have $7 or $700 left on your maximum, it will go straight back to the insurance company, and you won't be able to use it.
Last year, the US population lost about 100 BILLION dollars in dental benefits because of this policy!
Don't Leave Money on the Table
It's still early in the holiday season, which means your schedule probably hasn't been taken over by numerous parties, trips, and gatherings yet. That means you still have time to attend a dental appointment and ensure that your smile will be ready for all the food and pictures that are inevitably coming your way. If you just need a checkup and cleaning, your plan will likely cover most if not all of it. And, if you have outstanding dental work that needs to be completed (such as a filling, crown, or bridge), going to the dentist right now is an even better idea.
If you have a dental problem that needs to be fixed, waiting will only allow it to get worse over the next couple of months. Plus, you'll be wasting all of those insurance benefits we mentioned above. Most restorative procedures are covered about 40-75% depending on your plan, but if you wait until 2019 to get whatever treatment you need, you'll have to pay your deductible again before you have access to your benefits. Even if you can't get everything finished in 2018, starting now will help you pay less for your treatment overall, which is good news considering how financially stressful the holidays can be.
Happy Smile, Happy Wallet
Nothing can ruin the holidays faster than a dental problem. Going to the dentist now will guarantee that your smile is in good shape and help you save a lot of money while you do it. That's a total win-win!
To learn how your dentist in Oklahoma City can maximize your insurance benefits before the end of the year, just give them a call, and their team will make sure you'll have every reason to smile this holiday season.
About the Author
Dr. Michael Kirk is a family, restorative, and cosmetic dentist who was born, raised, and educated in Oklahoma, and he currently practices in Oklahoma City at Grand Dental Studio. He believes that even world-class dental care should always be affordable, so he's willing to work with patients to make sure they know the best ways to use their insurance. To learn more about how you can go to the dentist and save big this holiday season, he can be contacted through his website.