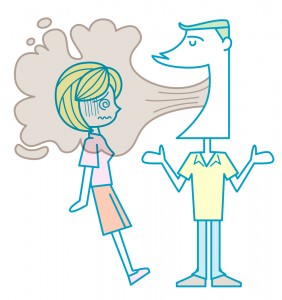 If you think you suffer from bad breath but no one has said anything to you about it, you need to thank your friends and family for being so reserved. Here at Grand Dental Studio, we view bad breath as a serious matter, and our experienced doctors are here to help you on your better breath journey. With 2014 rapidly approaching, we believe a wonderful way to start a new year is to tackle whatever dental issues you put off in 2013.
Bad breath, also known as halitosis, can be caused for many different reasons, and no one is spared from its disadvantages. Bad breath is commonly caused from bacterial tartar buildup in the mouth and tongue, and emits volatile sulfur compounds (VSCs), releasing a smell resembling rotten eggs. Though some people may think bad breath is not that big of a deal, it could be a symptom of a much larger, dangerous picture, such as gum disease, tooth decay, kidney disease, and much more.
When you visit our office, you will be given a full oral evaluation, looking into the current state of your teeth and reviewing your medical history. From there, we will be able to give you advice on how to handle your bad breath, and things you can do to keep it under control. Some of the things you can do is floss and brush after every meal, clean your tongue on a daily basis, and keep a record of the foods you eat throughout the week.
If you are concerned about your bad breath and feel as though we can help, make an appointment with our doctors, and we will all be able to help you begin 2014 in a fresh way!
Interested in learning more about a dental checkup or some of our other cosmetic, restorative, or general dentistry services? Call us today at Grand Dental Studio to schedule your appointment. Our Oklahoma City dental office is conveniently located for patients who live or work in the greater OKC area.