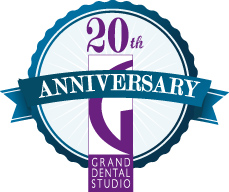 Grand Dental Studio is celebrating 20 amazing years of giving the OKC community excellent dental service. Throughout the years, we have seen so many amazing people who have changed our lives and our practice, and we cannot find the right words or actions to properly thank all who have made these past 20 years the best of our lives. The key to any successful business is an amazing team, and we would like to recognize the Grand Dental Studio people who make our jobs a joy every single day.
Dr. Michael Kirk, our amazing owner of Grand Dental Studio, how can we properly thank you for all that you have done? You have been able to see so many amazing things throughout your 20 years with your business, and we know we would be nowhere without you. We thank you for everything you have done for your patients and your community, and we look forward to another 20 years with you! Dr. Janice Henry, thank you for your dedication to continuing your knowledge so you can better serve your patients. Your passion, enthusiasm, and commitment to your job and to us amaze us every day. Your love and experience has made our practice an amazing one, and we are eternally grateful. Dr. Chris Foster, your love of your patients and of your field is always represented in the work you deliver each and every day. Your dedication to your family, your patients, and your faith give us all reason to come to work every day, and you will always be an irreplaceable member of our team.
To our amazing dental hygienists, Stephanie Sanderson, Andrea Smith, Lauren Bell, and Amanda Boston, and to our office clinical support team, Frances, Harlee, Lisa, Charissa, Ashley, and Christine, what would we do without you? Your allegiance to our practice, each other, and the dental field is unmatched by any other dental office. We are so lucky to have each and every one of you, and we know we would not be nearly as successful as a practice and as a dental family if we did not have all of you helping and supporting us. Thank you for all that you do!
Come and join Grand Dental Studio in celebrating 20 amazing years giving excellent dental services to the OKC community! Call us today at Grand Dental Studio to schedule your appointment. Our Oklahoma City dental office is conveniently located for patients who live or work in the greater OKC area.