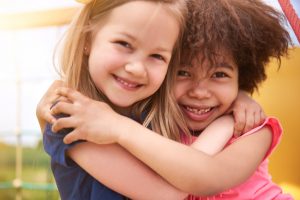 February is actually National Children's Dentistry Month, which is a time when parents and dental professionals alike make an extra effort to help educate children about the best ways to take care of their teeth. In honor of this, Dr. Michael Kirk, Dr. Dan McNair, and Dr. Janice Henry, your children's dentist in Oklahoma City, OK, are going to share 3 simple tips on how you can keep your child's teeth healthy as they grow and develop.
1. It All Starts at Home
Of course, the most basic part of keeping their teeth healthy is to routinely brush and floss. They are simply the best ways to protect them from tooth decay and gum disease. You've probably heard this a million times since you were a small child yourself. What you may not have heard is that even most adults actually brush their teeth incorrectly, so you can only imagine that many children are as well. Here are some little details you can keep in mind next time your child brushes their teeth:
Brush at least twice a day, once in the morning and once at night.
Brush at least two minutes each time (set a timer).
Make sure they brush every side of every tooth
Use a gentle circular motion
This gentle circular motion is better at breaking up plaque than simply scrubbing back and forth. You also want to be mindful to not use a fluoride toothpaste if they are too young. Exposure to too much fluoride can actually be harmful for young children, so be sure to ask Dr. Kirk, Dr. McNair, or Dr. Henry what type of toothpaste they should be using.
They need to floss daily as well. It doesn't matter if they brush or floss first, just as long as they do both at the end of the day. Whenever they forget to floss, they leave about 40% of their teeth's surfaces uncleaned. Have them use 8-12 inches of floss every time and check that they have flossed in-between each tooth. It shouldn't take too much force to do this, so make sure they're being gentle!
2. Limit the Sugar
Children have a natural craving for sweet drinks and snacks, and this can do a lot of damage to their teeth over time. The key is to enjoy these sweet treats in moderation. Candy shouldn't be an everyday snack. Also, make sure they only drink water when they are thirsty. Not only will they avoid excess sugar, but it will also rinse there mouth of bacteria and food particles, making it the next best thing to brushing their teeth.
3. Don't Forget Us!
The last parts of their complete oral hygiene regimen are routine check-ups and cleanings with their dentist in Oklahoma City, OK. A professional cleaning from one of our team is able to clean the surfaces on their teeth that they aren't able to reach with their brush or floss. Also, an exam can help catch any dental issues they might have early, which will ensure that treatment will be much quicker and easier.
Taking care of their smile while they are young will help establish a positive connection to going to the dentist and brushing their teeth, which will help them develop and maintain positive habits as they continue to grow.
Want More Tips?
Of course, oral hygiene is something they should be thinking about all year round, so be sure that they continue to follow these tips and they'll be smiling for all of 2017. There are plenty of other little tips that can help you keep their teeth healthy this year, and we're more than happy to share them with you, just give us a call today.