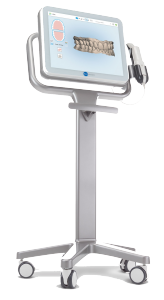 The entire world is going digital. Movies and pictures have been predominantly digital for years, and this only makes them easier to produce and faster to distribute. Thankfully, these advancements have also touched modern-day dentistry in the form of the iTero Scanner. Bite impressions can now be taken completely digitally, helping provide a better overall experience for our patients. What does this mean for you? How will this affect your next dental visit? Today, we let you know how this state-of-the-art technology helps us provide you a better quality of care.
Out with the Old, In with the New
In the past, taking a dental impression was a necessary, if uncomfortable process for many patients that usually consisted of them biting into a "gooey mess" that caused many to gag. It would create a facsimile of their teeth that would be used to make crowns, bridges, or Invisalign trays. Because of the inconsistency of the material, often these restorations would need to be adjusted when they were finally placed.
This simply wasn't good enough for Dr. Michael Kirk, Dr. Dan McNair, and Dr. Janice Henry. They wanted a method that would make the impression experience both more comfortable for patients and more accurate. This would enable them to make higher quality restorations that would fit better and therefore last longer. Fortunately, they have been able to do exactly that thanks to the iTero Element Intraoral Scanner.  
What the iTero Scanner Means For You
So how does this technology change your experience at Grand Dental Studio?
It means you never have to take a messy impression again. The iTero Scanner is a hand-held device with a small mouthpiece that you simply place your teeth on. From this, a fully-realized digital 3D model of your bite is formed right in front of your eyes. The process is fast, comfortable, and helps you get better treatment.
This approach provides a much more accurate model than the previous one, meaning that your restorations or orthodontic treatments will be perfectly tailored to you. They'll fit better, last longer, and be more effective.
Also, because everything is accomplished digitally, you save time as well. You no longer have to wait for a physical impression to be mailed to a dental lab. It can be sent instantly, shortening the turn-around time for your procedure.
Plus, you'll be able to see your digital impression as soon as it is done. This adds an element of fun to the process and also gives you a chance to see your teeth from your dentist's point of view. So much anxiety in dentistry has to do with not knowing what is going on, and the iTero Scanner enables us to share more with our patients so they can have peace of mind while in our office.
Have Questions?
You can be sure that as dental technology advances, we'll be at the forefront using the newest methods to continue to improve your experience with us. We strive to make your time with us as easy and worthwhile as possible, and tools like the iTero Scanner help us do that every day.
If you'd like to know more about the technology we use, just read our page here, or give us a call today for more information.