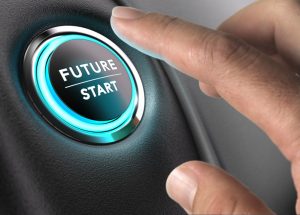 Technology has made just about every aspect of your life better, faster, and easier. You can manage your whole life from anywhere in the world with just your phone, and cars continue to use less and less fuel while going farther than ever. Fortunately, this progress has also touched modern-day dentistry. The newest technology enables your dentist in Oklahoma City, OK to diagnose you faster, treat you painlessly, and provide you an overall more positive experience. Here are just a few of the tools we use every day at Grand Dental Studio to provide top-quality dental care that only continues to improve.
DIAGNOdent
One of the greatest advancements in dentistry has been the introduction of lasers. DIAGNOdent is a small, handheld device that enables Dr. Kirk, Dr. McNair, and Dr. Henry to detect even the smallest signs of tooth decay. It uses a laser to determine the thickness of your enamel, and generates a digital readout for your doctor to examine. It is much more accurate and sensitive than traditional methods, and enables the doctors to treat you before a small problem becomes a big one.
Digital X-Rays
Digital x-rays are an improvement over traditional film-based x-rays in just about every way imaginable. They are much faster and can instantly display the images on a chairside monitor, and also emit significantly less radiation (50-90% less). This is safer for both doctor and patient alike. Plus, the image can be replicated and stored infinitely, making them ideal for both insurance purposes and patient education.
Intraoral Camera
This pen-sized camera is revolutionary for dentistry because it enables your dentist to show you a video of what they are seeing in real time. This takes a lot of uncertainty, and therefore fear, out of dentistry for many people. Dr. Kirk, Dr. McNair, and Dr. Henry can simply show you what they are seeing rather than just describing it. They can point out issues and discuss the solutions with you so you can have a better understanding of your dental care. This enlarged image of your mouth also makes it much easier for your doctor to spot potential problems.
Digital Imaging
Wouldn't it be great if you could see what your smile would look like after a particular treatment? That's exactly what digital imaging can do. If you are considering a cosmetic treatment, Invisalign, or a restorative procedure, digital imaging enables you to see what the end result will be. It works by manipulating digital pictures of your teeth with an imaging program, and lets you truly know what to expect from a treatment. The more informed you are, the better you will feel about your decisions, and that leads to an overall better experience.
iTero Scanner
Bite impressions no longer require you to deal with messy and gooey dental putty. With the iTero Scanner, your bite can be taken completely digitally. You simply place your teeth onto a small device, and the scanner then creates a fully 3D image of your teeth. This device is not only more comfortable, but also creates a much more accurate model of your bite. This means any treatment that it is used for, such as crowns, bridges, and Invisalign, will be better tailored to you. They will fit better, and therefore last longer and give you superior results.
Want To Know More?
As you can see, our office is specifically geared to give you a high-quality dental experience in less time than ever. It is important to us to stay current so we can provide a truly exceptional level of care to each of our patients.
If you'd like to know more about the technology we use in our office, or want to schedule an appointment, please give us a call today.