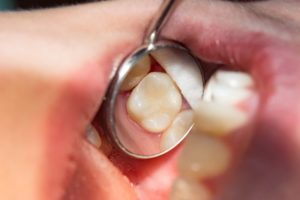 After spending a few extra moments in the mirror this morning with your mouth wide open, you're pretty sure that one of your teeth has a cavity. While this is certainly annoying, getting minor cavities repaired is a fairly quick and easy process thanks to modern-day fillings. As with everything else these days, however, you have a choice. Amalgam and tooth-colored fillings have been used to literally fix millions of cavities over the years, but which one should you get? It turns out there are pluses and minuses for each type, and knowing more can make your care decision nice and straightforward.
Why Fillings Are Important in the First Place
Most of the time, a person won't experience any noticeable symptoms when a cavity first develops. Even after one has been pointed out by their dentist, many people choose to skip out on getting a filling because they don't want to spend the money. This is always a mistake. Cavities only get worse over time, and left alone for long enough, they can eventually cause a serious infection and even tooth loss!
When your dentist places a filling, they first removed the decayed enamel, stopping the progression of the cavity, and then they replace the dental structure with a filling. This restores the strength of your tooth and ensures you'll be able to rely on it for years to come.
Amalgam Fillings: Traditional & Trusted
Amalgam fillings get their name from the fact that they are made of a combination of metals, including silver, zinc, copper, and mercury. This makes them extremely strong and durable, and they're also a little more affordable than tooth-colored fillings as well.
But, one of the big problems with amalgam fillings is that they instantly stick out in the smile due to their dark gray color. Plus, in recent years, people have become more hesitant to have mercury placed into their mouth because it's a notoriously toxic substance (though most research shows that dental mercury is entirely safe).
Tooth-Colored Fillings: Beautiful & Subtle
Instead of metal, tooth-colored fillings are made using a composite resin, which is a mixture of plastic and microscopic glass particles. The big advantage they offer is that the resin can be shaded to perfectly match a patient's enamel, meaning the restoration will seamlessly blend into the smile. The resin is also able to form a stronger bond with tooth enamel compared to amalgam, allowing a dentist to preserve more tooth structure during placement, which creates a higher quality repair.
Because they are more aesthetically pleasing, tooth-colored fillings tend to be a little more expensive than amalgam ones, and they are slightly less durable as well. Fortunately, how long a filling lasts is mostly dependent on how well a patient takes care of it.
Which One is Right For You?
It really depends on your priorities. Are you more concerned about your budget than your appearance? Do you want a treatment that no one else will be able to see? Your dentist will be more than happy to make a recommendation based on your input after they give you an exam.
Regardless of which one you choose, getting a cavity filled quickly is always a smart move, and with the proper care, you can trust your filling to last for many years to come.
About the Author
Dr. Michael Kirk is a family, restorative, and cosmetic dentist who has been taking care of Oklahoma City smiles for over 25 years. A well-respected member of the American Dental Association and Oklahoma Dental Association, he's able to provide a wide variety of smile repair treatments to help patients fix cavities and get on with their lives with their teeth intact. If you have a cavity that needs filling, he's more than ready to help, and you can schedule an appointment by clicking here.