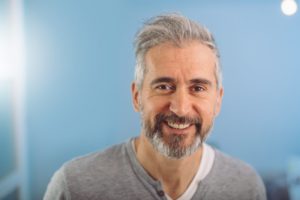 James Brown famously sang, "It's a man's world," but when it comes to oral health, women are definitely in charge. Men are much more likely than women to develop minor problems like cavities as well as serious ones like oral cancer, so this begs the question, "What's up with men's oral health?" Fortunately, research has shown us the answers, and by learning a few key facts, every man can know exactly what they need to do to achieve and maintain a healthy, confident smile.
Men Go to the Dentist Less Than Women
According to the Academy of General Dentistry, women are much better about maintaining their regular preventive dentistry appointments like checkups and cleanings. On the other hand, a large percentage of men only see their dentist when they are experiencing oral pain or dysfunction. By skipping regular appointments, men allow minor problems to turn into major issues, which can be very damaging for their long-term health. The American Dental Association recommends that everyone, regardless of their gender or age, should visit a dentist at least twice a year even if they aren't experiencing any problems with their teeth so that potential problems can be caught early and treated quickly.
Men Also Brush their Teeth Less Than Women
Research conducted by the American Dental Association and Academy of General Dentistry revealed that 28.7% of women brush after each meal, and 56.8% brush at least twice a day. What are those numbers for men? 20.5% brush after every meal, and 49% brush the recommended two times a day.
While these margins are relatively small, when you take into account the size of the American population, this means that roughly ten million men are not brushing enough, putting them at a significantly higher risk of developing cavities and gum disease.
Men Are at a Greater Risk of Developing Oral Cancer
One of the biggest risk factors when it comes to oral cancer is simply being a man, but why is this the case? Firstly, men tend to smoke, dip, and drink excessively at notably higher rates than women, all of which have been proven to lead to oral cancer. And, they are also more likely to miss out on important oral cancer screenings that are a part of regular dental checkups. This can allow a minor growth or lesion that is precancerous and easily treatable to turn into full-blown cancer without someone even noticing.
So when it comes to the health of the smile, science says that it's definitely a woman's world! Fortunately, men around the country only need to make a few small adjustments to see big changes when it comes to how their mouths look and feel. If you have important men in your life who don't take great care of their teeth, be sure to share these facts with them. Brushing twice a day, seeing a dentist regularly, and cutting back on smoking/drinking takes relatively little time and can have a HUGE impact on someone's long-term oral and overall health—in fact, it can even save their life!
About the  Author
Dr. Michael Kirk is a general, restorative, and cosmetic dentist who has served the Oklahoma City area for more than 25 years. In addition to providing services designed to help men, women, and children enjoy healthy and beautiful smiles, he's also happy to share the latest research so his patients can have all the information they need to take great care of their oral health as well as their loved ones. To learn more about some of the facts covered here or schedule a FREE first visit® at Dr. Kirk's practice, click here.