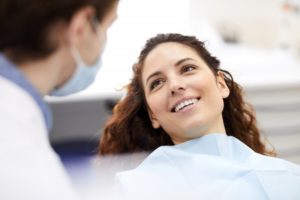 If you're like millions of other Americans, the pandemic caused you to miss your checkup and cleaning earlier this year while dental practices temporarily closed. Fortunately, the team at Grand Dental Studio was able to quickly adapt and implement 22 additional safety protocols so we could start seeing patients and ensure they enjoy peace of mind throughout their appointments. So, now is the perfect time to reschedule your routine visit. Seeing your dentist in Oklahoma City is more important than ever, as it cannot only help you protect your oral health, but your overall health as well.
Why Checkups & Cleanings Matter
Checkups and cleanings give our team the chance to accomplish several things in one sitting that are essential for your smile as well as your general wellbeing. These include:
Allowing our hygiene team to clean your teeth and remove plaque and tartar from areas of your mouth that your brush and floss can't reach.
Giving Dr. Kirk a chance to examine your teeth, gums, and bite to make sure any possible problems are found early and treated quickly.
An oral exam can also reveal the initial signs of several overall health issues, including diabetes, cancer, and heart disease. If Dr. Kirk notices anything, he can help a patient get a proper diagnosis and begin treatment right away (if needed), maximizing the chances of a fast and full recovery.
You'll also have a chance to ask our team any questions. You can let us know about any out of the ordinary oral symptoms you've been experiencing, or you can learn more about any cosmetic procedures you're considering.
With public health getting more attention than ever, a simple checkup and cleaning appointment is one of the fastest, easiest ways you can take care of yourself from top to bottom.
Safety First
Of course, your next appointment is going to look quite different from your last. For one, you'll be asked to check-in from your car when you arrive to minimize any possible contact with other patients. You'll also notice that our entire team is wearing medical-grade masks, face shields, and protective coats and hats to virtually eliminate the chances of us transferring or contracting the coronavirus. This is just a small sample of how we're doubling down on our safety efforts, and you can read more about everything we are doing here. We've implemented these measures for a few months now, and as you'll see in the real patient quotes below, people are certainly noticing our extra efforts:
"Great job. I appreciate your standards to keep everyone healthy."—Janet 
"My husband and I both had great appointments! We appreciate all the extra measures you all are taking!"—Christina 
We hope you're able to schedule your checkup and cleaning soon, and we promise from the moment you step through our doors, you'll know that you have nothing to worry about. At the end of the appointment, the only thing on your mind will be your pristinely clean and perfectly smooth teeth!
About the Author
Dr. Michael Kirk is proud to serve Oklahoma City families, and he has done so for the past 25+ years as a family, implant, and cosmetic dentist. A graduate of the University of Oklahoma, he is committed to providing his patients with only the best care possible, which is why he constantly takes continuing education and implements the latest technology and techniques into our practice. To learn more about our new safety protocols, or to (re)schedule your checkup and cleaning, contact us today.