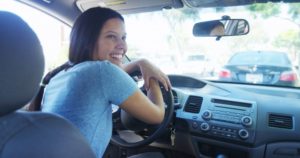 Even though 2020 is far from over, everyone already knows what the phrase of the year will be—social distancing. Literal mountains of research have shown that minimizing contact with other people and keeping a space of at least six feet between individuals is one of the simplest and most effective ways to slow the spread of the novel coronavirus. But how does social distancing work when it comes to dentistry? Isn't getting up close and personal essential to the entire process? Fortunately, your dentist in Oklahoma City and the team at Grand Dental Studio have already thought about this, so we've implemented several guidelines to ensure strict social distancing is maintained during everyone's appointments. Read on below to learn about a few of the ways we're working hard to keep you, ourselves, and the community safe and healthy!
Welcome to Our Virtual Waiting Room
The next time you come to see us, you'll be able to check-in from your car, and we'll have you go directly from there to your treatment room so you can bypass the reception area. This goes a long way in minimizing any potential contact with other patients while also allowing you to listen to your radio as loud as you want!
Spaced Out Appointments
We've allowed for more time between appointments in order to thoroughly clean and sanitize commonly touched surfaces, equipment, and instruments. This extra time also makes it easy for our team to direct traffic, ensuring that the walkways in our office are nice and clear as we escort patients in and out.
Where Are the Chairs?
Our reception area will look more roomy than usual because we've removed several chairs, so if you do need to wait in our office, you can trust that you'll have plenty of space to stretch out (and stay safe).
Helpful Signage
One-way traffic signs in our office make it easy for people to move around while keeping enough distance, plus it saves patients from having to roughly estimate whether or not they are 6' away from someone.
Enjoy Our Private Exit
After your appointment, you'll be escorted through our back exit, further limiting your potential contact with other patients and touchpoints in our office. This allows us to keep everyone moving in one direction, preventing any patients from potentially running into one another.
Since reopening, Grand Dental Studio has gone above and beyond the safety guidelines provided by the ADA, CDC, and OSHA. That's why in addition to these measures, you'll also find our team suited up in extra PPE, including N95 masks and face shields, plus you'll be breathing air that has been cleaned by our new HEPA filtration system. We've also recently installed a UV-C light system that's proven to kill up to 99% of bacteria and viruses.
Whenever you leave the house, social distancing should always be on your mind, but when you come to Grand Dental Studio, you can trust that we'll take care of everything for you, allowing you to just sit back, relax, and smile.
About the Author
Dr. Michael Kirk has been taking care of Oklahoma City families for over 25 years, and he continues to grow and refine his knowledge and skills to face the challenges of these rapidly changing times. Dental safety during COVID-19 is still one of our top priorities, and you can learn more about everything we're doing to keep our community healthy on this page. For questions about our new protocols, or to schedule an appointment to get the care you deserve, contact us today.