Chances are that you, like many, may not have even known what "PPE" stood for a few months ago, but thanks to the COVID-19 pandemic, you're likely all too familiar with personal protective equipment like masks and gloves these days. After being closed for six weeks, Grand Dental Studio has reopened so our patients can get the high-quality dental care they need, and we've implemented several new safety measures that go above and beyond the guidelines set by the CDC and OHSA. For one, you'll likely notice your dentist in Oklahoma City wearing some new headgear at your next appointment. Here's how each piece will keep you and them safe from the coronavirus.
Facemasks
When you visit Grand Dental Studio, your dentist (as well as our clinical team) will always be wearing an N95 or K95 mask, exceeding the recommendations of the American Dental Association. These are made using multiple layers of medical-grade materials that prevent the wearer from exhaling or inhaling any microparticles like viruses. We ask that our patients wear facemasks when they come to our office, and we will provide facemasks to those who may forget.
Face Shields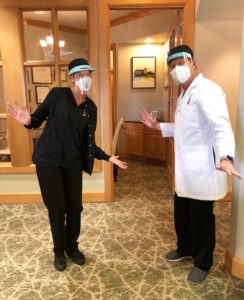 While masks are tremendously useful, they don't protect every area of the face where the virus can potentially enter. This is why Dr. Kirk also wears a face shield while treating a patient, as these cover not only the eyes and forehead, but the ears and front of the neck as well. Made of thin plastic, face shields are also very easy to clean and disinfect between patients.
Protective Eyewear
In a meta-analysis of over 26,000 patients affected by COVID-19, researchers determined that "eye protection might result in a large reduction in virus infection." They found that when people used eye protection in a healthcare setting, the risk of exposure to the virus noticeably dropped. So, in addition to their face shield, your dentist will also wear another piece of protective eyewear. This has the added benefit of preventing your dentist from accidentally touching their eyes. Everyone knows touching your face should be avoided these days, but most people do it without realizing it, so a little extra insurance is never a bad thing!
When We're Safe, So Are You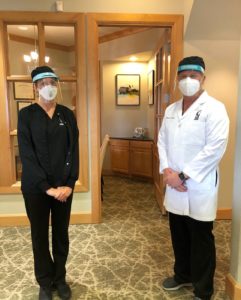 You might be thinking, "Great, my dentist is wearing a bunch of safety gear, but what about me?" When your dentist is protected from the virus, so are you, and this additional PPE is just part of what Grand Dental Studio doing to adapt to the post-COVID-19 world. We've recently installed a HEPA air filtration system, a UV-C light system that kills up to 99% of bacteria and viruses, and our dentists and team are spacing out appointments to allow for social distancing. We're also sterilizing instruments more thoroughly than ever before and offering patients plenty of opportunities to wash their hands using a hospital-grade sanitizer.
Overall, these additional protocols are designed to do one thing—keep everyone safe and help you enjoy peace of mind during your appointment. Thanks to our team's efforts, the last thing you'll need to worry about during quarantine will be a cavity! We look forward to seeing you again and giving you every reason to smile during these strange times.
About the Author
Dr. Michael Kirk is a family, implant, and cosmetic dentist based in Oklahoma City who has been serving the community for over 25 years. He and his team at Grand Dental Studio are extremely dedicated to dental safety during COVID-19, so they have implemented 24 additional infection control measures. You can read about them here. If you have any questions, or if you'd like to schedule an appointment, Dr. Kirk can be contacted here.