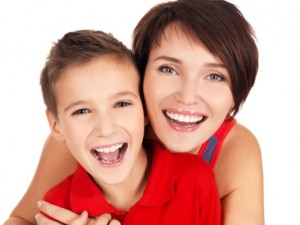 Has your child seen a dentist lately? Sometimes, parents are confused by dental health recommendations for children, but as soon as your child's first tooth appears, it's time to schedule a children's dental visit. Every February, the American Dental Association (ADA) sponsors National Children's Dental Health Month to raise awareness about the importance of children's oral health. Celebrate your child's dental health and make an appointment with Dr. Kirk for your child's next dental checkup today. Dr. Kirk is a pediatric dentistry expert. Grand Dental Studio delivers quality pediatric dental care daily throughout Oklahoma City, OK, Midwest City, Deer Creek, Yukon, Edmond, Moore, Nichols Hills, and the surrounding communities.
The month-long national observance brings together thousands of dedicated dental professionals, educators, and families to promote the benefits of good oral health for children, their caregivers, teachers, and others. This year's theme is centered on defeating "Monster Mouth" and features the McGrinn Twins, Flossy and Buck, along with their next-door neighbors, Den and Gen Smiley and K-9 the dog.  They are all fighting to defeat "Plaqster the Monster" for good oral health.  Older children and teens can also benefit from the messages demonstrating effective ways to defeat monster mouth and maintain good oral health by always brushing, flossing, rinsing, and choosing healthy snacks.  Resources are provided to help speakers, teachers, and others communicate the importance of oral hygiene to children of all ages.
How to Prepare Your Child for Their Next Dental Checkup
First, consider making a morning appointment when children tend to be more rested and cooperative.
Keep any dental anxiety or concerns you have to yourself. Children can pick up on your emotions, so always emphasize the fun and positive.
Never use a dental visit as a punishment or threat.
Never bribe your child with cavity causing treats.
Talk with your child about visiting the dentist and role play so they can get used to the idea early on.
Developing good oral hygiene habits at an early age and scheduling regular dental checkups will ensure your child gets a head start on a lifetime of healthy teeth and gums. Make a dental checkup appointment with Dr. Kirk for your child today. Grand Dental Studio is a family friendly dentistry, now proudly restoring smiles daily throughout OKC, Midwest City, Deer Creek, Yukon, Edmond, Moore, Nichols Hills, and nearby cities.
Learn more about the ADA and National Children's Dental Health Month here:
http://www.ada.org/en/public-programs/national-childrens-dental-health-month