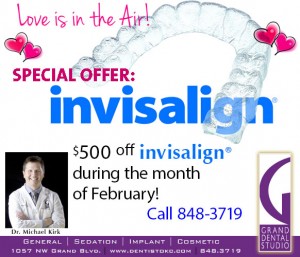 Do you love your smile? Following a conscientious oral home care routine and always showing up for your six-month checkups are great habits that will definitely protect your long term oral health. However, if your teeth are severely misaligned, crowded, spaced, or twisted, you may still be dissatisfied with your smile. But are bulky metal braces really the only solution? Not anymore! Today you can achieve the straight, "picture perfect" smile you've always wanted with new Invisalign orthodontics. But that's not all. We're making it easier than ever to get started with Invisalign. If you choose Invisalign treatment from Dr. Kirk in the month of February, you'll automatically receive $500 off your treatment cost! At Grand Dental Studio we want you to love your smile, but time may be running out on this special deal. Schedule the Invisalign consultation you need with Dr. Kirk today. Grand Dental Studio is the trusted orthodontics destination of OKC, now proudly restoring smiles daily throughout Oklahoma City, OK, Midwest City, Deer Creek, Yukon, Edmond, Moore, Nichols Hills, and the surrounding communities.
Consultation
Invisalign uses a series of removable, custom, clear plastic aligners to incrementally reposition your teeth.
The Invisalign method requires a series of dental impressions to be taken to first determine the optimal position of your teeth. These impressions and photographs can be taken during your initial consultation.
Dr. Kirk will create a 3D digital projection of how your teeth could be realigned in stages. This projection forms the basis for developing a series of custom fabricated clear aligners which can accomplish that movement.
Fabrication
Invisalign aligners are manufactured at the Invisalign dental labs using stat-of-the-art computer-aided design/computer-aided manufacturing (CAD/CAM) technology.
The finished aligners are then sent to Dr. Kirk, who will dispense them in groups of one or two at a time during regular progress monitoring appointments (about once every four to six weeks).
Treatment
Each aligner must be worn in its specific order for about two weeks, for at least 20 hours per day. Your teeth will be moved in increments of about .25 millimeters to .33 millimeters at a time.
Your aligners will be easily removable for eating, drinking, brushing, flossing, or for special occasions.
A typical Invisalign treatment requires 20 to 30 aligners for both the upper and lower teeth, with most treatments taking no longer that a year. However, treatment times do vary from patient to patient.
Remember, our $500 off Invisalign clear braces is a limited time offer, so schedule an Invisalign consultation with Dr. Kirk today. Grand Dental Studio is the leading orthodontics destination of Oklahoma City, now proudly restoring smiles daily throughout OKC, Midwest City, Deer Creek, Yukon, Edmond, Moore, Nichols Hills, and neighboring areas.