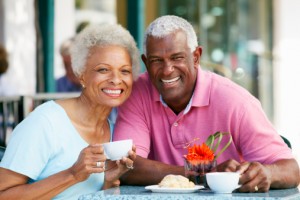 Teeth are meant to last a lifetime. However, for many of us, this just isn't possible. Problems with gum disease, decay, and injury can all lead to adult tooth loss. But this doesn't mean you have to give up on having a full and healthy smile. By replacing missing teeth with new dental implants from the Grand Dental Studio, you can improve your overall appearance and preserve your long term health. Schedule your personalized dental implants consultation appointment with Dr. Kirk today. Grand Dental Studio is the premier implant dentistry of Oklahoma City, now proudly renewing smiles daily throughout OKC, Midwest City, Deer Creek, Yukon, Edmond, Moore, Nichols Hills, and the surrounding communities.
Dental implants are actually small metal posts that can be surgically positioned in the jawbone beneath your gums. Once in place, they can be used to securely mount replacement teeth like dental crowns or dentures. Because dental implants can fully fuse with your jawbone, they provide permanent and stable support for artificial teeth.
Why Choose Dental Implants Instead of Other Restorative Methods?
Dentures and dental bridges mounted to dental implants won't slip or shift and can improve both eating and speaking abilities. Dental implant secured tooth replacements also feel more natural than conventional dental bridges and dentures. For many patients, traditional bridges and dentures are simply not comfortable enough for daily support, and often cause soreness and gagging. Traditional bridges must be attached to healthy teeth on either side of the space left by a missing tooth. With dental implants no adjacent teeth are reduced or made vulnerable to hold your new tooth in place. Additionally, dental implants are the only restorative option which can stop tooth loss related bone loss and preserve your youthful facial features.
There are two main types of dental implants, full sized and mini implants. For patients who lack the minimum bone density requirements to receive full dental implants, mini dental implants are a great alternative.
Full Dental Implants are surgically implanted directly into the jawbone. Once the surrounding gum tissue has healed, a secondary surgery is needed to connect an abutment post before an artificial tooth replacement can be attached.
Mini Dental Implants consist of a metal frame that is fitted onto the jawbone just below the gum tissue. As the gums heal, the frame fuses to the jawbone. Abutment posts, which are already attached to the frame, protrude through the gums so that artificial teeth can then be mounted.
For many patients, tooth loss creates problem after problem after problem. However, many of these problems can be resolved with new dental implants. New dental implants will allow you to look and feel better, regain confidence, and improve your overall quality of life. Schedule a dental implants consultation appointment with Dr. Kirk today to get started. Grand Dental Studio is the leading Oklahoma City implant dentistry, now delivering quality care daily throughout OKC, Midwest City, Deer Creek, Yukon, Edmond, Moore, Nichols Hills, and neighboring areas.