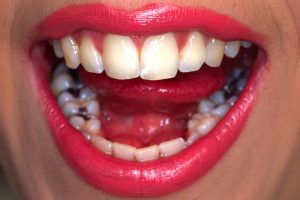 Metal dental amalgam fillings have been commonly used in dentistry for decades, however, with recent studies proving the dangers of the fillings due to toxins, we are now replacing amalgam fillings daily. Amalgam fillings are made with a material that's roughly 43-54 percent mercury, giving them a silver appearance. While these fillings are generally considered to be safe by many, the fillings release mercury vapor into your body, causing an accumulation of mercury exposure overtime. As your family dentist in Oklahoma City, Grand Dental Studio has everything you need to know about mercury fillings and the toxins they release.

Facts about Amalgam Fillings from Your General Dentist
American dental offices are the second largest user of amalgam fillings in the world, which causes an estimated 240 to 300 tons of mercury to enter the industry each and every year. While many believe the fillings to be safe, the use of mercury in fillings is actually a neurotoxin. As a result, many dentists are now thinking twice about using the metal fillings. In addition, the U.S. Food and Drug Administration now advises against the use of the fillings for children, pregnant women, those with certain medication conditions and hypersensitive people. Because many people are unaware of the dangers they face when using the metal fillings, the FDA has pushed to disclose the dangers of amalgams.
The U.S. isn't the only country to try to raise awareness of mercury exposure from fillings. In fact, 47 European nations are now restricting or prohibiting the use of metal dental fillings as they are a large source for mercury exposure. Even when pregnant women, fetuses, and children are exposed to low doses of mercury, it can lead to serious health complications according to the World Health Organization. Australia and Canada are both following Europe's lead to reduce the use of amalgam fillings.
In addition to the overall health factors that are impacted by the fillings, oral health is also at risk. When amalgam fillings are used, more of the tooth's healthy structure must be removed. As a result, the tooth is weakened, raising the risk for additional dental work in the future. Not to mention, the fillings are known to expand and contract, causing teeth to crack.
Metal-Free Fillings from Your Family Dentist
As a reputable family dentist in Oklahoma City, more and more patients now turn to us to remove metal fillings. We remove old fillings and replace them with a resin composite material that is totally mercury free. In addition to removing existing amalgam fillings, Dr. Michael Kirk uses composite fillings when performing restorative procedures.
The safe and effective resin produces a wider range of benefits when compared to metal fillings. Not to mention, they match your enamel color for a seamless repair. Plus, the resin composite can also be used in a diversity of ways that isn't always possible with amalgam fillings, allowing us to extend the services Grand Dental Studio offers.
As a general dentist in Oklahoma City, Dr. Michael Kirk strives to promote dental health, which is why we advise you not to use amalgam fillings. If you need a metal filling removed, please call our office at (405) 848-3719.