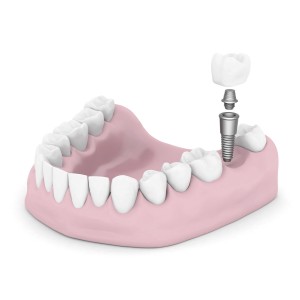 If you have teeth missing from your smile, you may find it difficult to be one hundred percent confident in your smile. Though some people may not think twice about it, having an incomplete smile can be detrimental to the rest of your mouth, and it is important to take care of it as soon as possible. Dentures and partials are one way to fix the problem, but you may be looking for a more permanent solution. Because our doctors understand the importance of having a full smile, he is able to offer dental implants to his patients.
The process of dental implanting begins with a consultation with one of our doctors. Dr. Michael Kirk has had extensive postgraduate training on dental implanting from the University of Texas, so he is more than capable of taking care of your procedure. During the consultation, he will be able to assess your smile in its current state, as well as ask you about your long term goals regarding your smile. You will also have that opportunity to bring up any questions or concerns you have regarding your procedure, as we want you to be informed the entire time. If you are considered a candidate, that is where the real fun begins!
A titanium screw will be embedded into your jaw bone. This screw will act as a replacement for the empty socket, and will fuse with your natural bone over time. After the screw, the abutment is added, which is essentially a support system for the implant and the crown. The crown is then placed on top, completing your look. In the end, you're left with a beautiful smile!
If you're curious as to how dental implants can help change your smile for the better, make an appointment, and we'll be more than happy to help!
Interested in learning more about dental implants or some of our other cosmetic, restorative, or general dentistry services? Call us today at Grand Dental Studio to schedule your appointment. Our Oklahoma City dental office is conveniently located for patients who live or work in the greater OKC area.