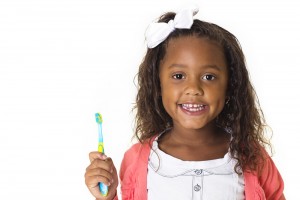 Many people may not know this, but February is National Children's Dental Month. A child's teeth is just as important, if not more so, than an adult's, and because their teeth are brand new and just forming, their smiles are more prone to decay. In order to have a beautiful smile for years to come, your child must become accustomed to the healthy routines and habits at an early age. The doctors at Grand Dental Studio understand the importance of your child's smile, which is why they offer children's dentistry.
Dental sealants are an important aspect of children's dentistry. Because the teeth located toward the back of the mouth have deep grooves and pits, they are more susceptible to bacteria getting lodged and causing problems. Dental sealants protect your child's teeth by adding a protective layer in the grooves, preventing harmful bacteria from making your child's smile its new home. Playing a crucial role in cavity prevention, dental sealants cover the molars and premolars, which are the primary chewing teeth.  This is a wonderful way to ensure your child's smile stays protected.
Fluoride supplements are another wonderful way to keep your little one's smile looking and feeling great! Fluoride attracts other minerals that help strengthen tooth enamel. Surprisingly, tap water is a good way for your child to get fluoride, but because most people drink bottled water, you child may be missing out on much needed fluoride. We will be able to determine whether or not your child needs a fluoride boost when they come in for their appointment, and we will provide a simple solution.
To take advantage of National Children's Dental Month, make an appointment for your child today, and let our amazing doctors and staff set your child off on the right path of dental health.
Interested in learning more about our children's dentistry or some of our other cosmetic, restorative, or general dentistry services? Call us today at Grand Dental Studio to schedule your appointment. Our Oklahoma City dental office is conveniently located for patients who live or work in the greater OKC area.