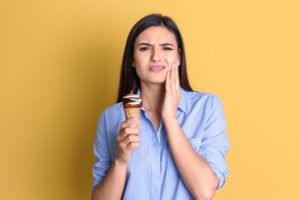 It's June, so summer has officially arrived, but unlike your friends, you find yourself skipping ice cream as the weather heats up. Why? Because you get a healthy dose of dental pain with every sweet bite. Dental sensitivity associated with hot and cold foods or drinks is a very common problem, so in honor of Oral Health Month, your dentist is going to share why your teeth may be sensitive, and better yet, how you can make it stop.
What Causes Sensitive Teeth?
Your teeth are actually composed of multiple layers. You probably know about the outermost one, enamel, and underneath it below the gum line is a layer called cementum. Inside both of these is a substance called dentin. Dentin is filled with microscopic tubules (small hollow tubes) that go straight to the inner nerve of a tooth, so when it's exposed to hot or cold temperatures, this can overstimulate the nerve and cause pain. There are a number of reasons the dentin can become unprotected:
Tooth decay
A crack in the enamel
An old or worn out filling
Gum disease
Thin or worn tooth enamel due to teeth grinding
Exposed tooth root (usually due to gum disease)
How to Treat Sensitive Teeth
Fortunately, there are a number of proven ways to treat sensitive teeth. The approach that is best for you will largely depend on what is causing the sensitivity in the first place, so you should consult your dentist to figure out which of the following solutions would be right for you:
Using a sensitive tooth toothpaste
Getting topical fluoride treatments more often from your dentist to strengthen the enamel
A filling or crown to repair a tooth that is decayed or damaged
A gum graft to restore the gum line that's supposed to protect the cementum
A root canal to treat a tooth that has developed an infection in the inner nerve
Preventive Tips
Of course, preventing the teeth from becoming sensitive in the first place is much easier than getting them treated. These simple tips will help keep your enamel strong and your dentin well protected:
Brush and floss every day to prevent the decay that could erode the enamel
If you grind your teeth at night, talk to your dentist about getting a nightguard
Avoid chewing on extremely hard items like ice, pens, pencils, fingernails, etc
Visit your dentist regularly for checkups and cleanings so thinned enamel can be found and treated early
Sensitive teeth are certainly annoying, but they don't have to ruin your summer if you take the right steps. By practicing consistent oral hygiene at home and working with your dentist, you can make sure that the next bite of ice cream you have will be a welcome treat to beat the heat.
About the Author
Dr. Michael Kirk is a family, restorative, and cosmetic dentist who has been practicing in Oklahoma City for more than 25 years. He along with our team of dedicated hygienists and assistants strive to provide top-of-the-line dental care and service to local families every single day, and nothing makes him happier than seeing someone smile because of his efforts. To learn more about treating and preventing sensitive teeth this summer, he can be reached for questions through our website.