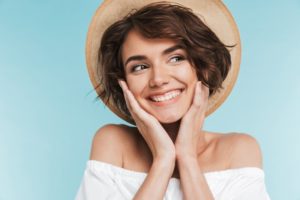 After years of feeling self-conscious about your smile and always hiding it in pictures, you've finally decided to do something about it. You've even done some research online and are pretty sure about the treatment(s) you want. However, when it comes to improving your smile, it's not just your teeth that matter. Before you actually sit in the dentist's chair to get cosmetic dentistry services, make sure you and your dentist consider the following factors as well to guarantee the best possible results.
Context is Everything
One quick glance in the mirror will reveal that your smile makes up about one-third of your face. While this is certainly sizable, it also means that your smile's appearance is affected by more than just your teeth. Your smile needs to work well with your other facial features, and you should definitely visit a cosmetic dentist who takes them into account before beginning any treatment. The most important ones to consider are:
Facial Height & Width
Is your face long and narrow or short and wide? These factors create the framework of your smile, and getting a treatment without thinking about them can lead to a look that is unbalanced and out of proportion (think of a celebrity who got porcelain veneers that made their teeth seem way too big for their face).
Lip Volume
The perfect smile shows just the right amount of teeth and gums, and the shape/size of your lips can affect this in a major way. If your lips cause more gum tissue than teeth to be revealed whenever you smile, then perhaps it isn't your teeth that need to be treated, but rather your gums! Your dentist can actually use a laser to painlessly remove excess gum tissue to make the teeth appear longer.
Age
As we age, pretty much everything about the body changes, and this includes the face. Typically, as time goes by, more of the bottom teeth show, the height of the face decreases, and it becomes wider as well. Getting a smile that would look great on a 20-something may not be the best choice for someone in their 30s, 40s, or 50s. A patient should work with their dentist to get a result that both meets their goals and suits their age to achieve an appearance that is attractive and looks natural.
Skin & Lip Color
Thinking about whitening your teeth? The color of your skin and lips really determine what will be the "perfect" shade. If you go too white for your complexion, the results will look artificial, or if you don't whiten enough, you may not be able to even notice a change. Make sure you and your cosmetic dentist take this into account before doing anything that will change the color of your teeth.
When all of these factors are considered, a patient can get a smile that not only looks great, but dramatically improves the overall appearance of their face as well. Enhancing your smile involves more than just your teeth, and by keeping this in mind, a dentist can provide truly life-changing results.
About the Author
Dr. Michael Kirk is a cosmetic dentist based in Oklahoma City with more than 25 years of experience. He is also a longstanding member of the American Academy of Cosmetic Dentistry and Oklahoma Academy of Cosmetic Dentistry. Whether you're thinking about whitening your teeth or getting a complete smile makeover, Dr. Kirk will take the time to ensure your brand new smile suits your tastes, your face, and will fill you up with confidence every time you see it. To learn more about your cosmetic dentistry options and schedule a consultation with Dr. Kirk, he can be reached through his website.