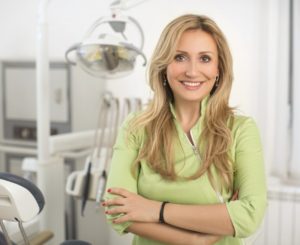 Taking care of your teeth is one of the most important things you can do for both your oral health and appearance, but according to recent statistics, only about half of the people in Oklahoma visit a dentist on a regular basis! To help more people gain access to the high-quality dental care they deserve, Dr. Michael Kirk & Associates are happy to offer a FREE first visit™ here at Grand Dental Studio. Now, you can get to know our practice, take care of your teeth, and save money at the same time!
What You Get with our FREE First Visit™
This offer includes both a free exam with one of our dentists as well as a set of X-rays.
During the exam, your dentist will look at your teeth, gums, jaw, bite, and existing dental restorations to make sure that everything is in good shape and working properly. If they spot a problem, they can immediately go over your treatment options to address it. By coming to Grand Dental Studio on a regular basis, we can stop dental problems during their earliest stages and prevent many from developing in the first place!
And with X-rays, our team will have the chance to catch and diagnose any issues you might have that are hidden from the naked eye. By keeping these X-rays on record as a baseline, they can also be used to help us notice subtle changes in your dental situation over time.
At Grand Dental Studio, we only use 100% digital X-rays as opposed to traditional film. By comparison, digital X-rays are able to create images in a fraction of the time, they don't require toxic chemicals to be developed, and they even reduce radiation exposure by about 80%! Plus, because the images are entirely digital, they can be blown up, rotated, and color-coded so you can go over and more easily understand them with your dentist.
The Importance of Routine Dental Visits
If you're the type of person who wants to have a big, bright, and beautiful smile, then routine dental visits are one of the most important things you can do! They enable Dr. Kirk to find and treat minor dental problems before they can become major headaches later on, plus he can spot issues in the mouth that may indicate a person is dealing with a problem elsewhere in the body. Conditions like heart disease, diabetes, and osteoporosis can all show definitive signs in the mouth during their initial stages, and by keeping an eye out for their telltale indicators, Dr. Kirk can help patients seek out early treatment and avoid serious health complications in the future.
Schedule Your FREE First Visit™
Dr. Kirk and the team at Grand Dental Studio are always happy to welcome new patients from all around Oklahoma City, so to make it easier for you to walk through our doors for the first time, you won't spend a dime at your first visit. It will be the first step in a long relationship that will safeguard your smile for many years to come, and we can't wait to get started! To schedule your FREE first visit™, contact us today.