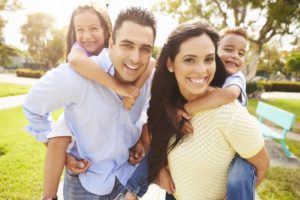 Life is funny sometimes. June 1st was actually National Donut Day, so millions around the country celebrated by indulging in their favorite fried sugary treat. Ironically, June has also been designated as Oral Health Month by the American Dental Association. Coincidence? Who knows! This year, the theme is "Lead By Example," so it's aimed at parents whose children are likely starting summer vacation, which is when home oral hygiene habits often begin to slide. To help keep everyone on track, an Oklahoma City dentist, Dr. Michael Kirk, is going to reveal that while taking care of your oral health is great for the smile, it's actually crucial to overall health as well.
Why Oral Health Matters
When asked the question, "Why does oral health matter?" most people will be able to answer it pretty easily. Maintaining your oral health means taking care of your teeth and gums, and this enables a person to eat, speak, and smile with confidence as the years go by. This is all very true, but did you know your oral health can actually affect your general health as well?
The Connection to Overall Health
This phenomenon is called the "oral-systemic link," and it basically states that the health of the mouth directly affects the health of the body. This is because the mouth is the primary portal for the body, and pretty much anything in the mouth can enter the body and travel throughout it. This is pretty simple to imagine when you think about a process like digestion. Food goes into the mouth, is broken down by the teeth, and then it enters the digestive system. From there, it passes into the bloodstream and goes around the body to provide energy for all of the cells.
Unfortunately, this means that potentially harmful things, like bacteria, can easily enter the body through the mouth as well. If a person develops gum disease (which is a common bacterial infection of the gums and roots of the teeth that usually develops due to a lack of brushing and flossing), the oral bacteria can easily enter the bloodstream because the gums are very vascular, as in they have many blood vessels. Once in the body, this bacteria can come in contact with the internal organs, causing an inflammatory response that can lead to many different systemic illnesses.
According to an ever growing mountain of research, those with gum disease are much more likely to develop diabetes, heart problems, and even dementia over time. It's also the leading cause of adult tooth loss, meaning it can severely affect how a person feels both on the inside and outside!
How To Safeguard Oral & Overall Health
Fortunately, taking care of your teeth and gums is an easy way to prevent this kind of bacteria from becoming an issue, and you're probably already familiar with the best ways to do it: brush twice a day, floss once, and regularly see your family dentist in Oklahoma City for checkups and cleanings. This approach will not only prevent gum disease from occurring in the first place, but it will also allow your dentist to catch and treat small issues before they can become more serious later.
So as the summer days become longer and warmer, be sure to monitor your children's oral healthcare habits, provide a good example by taking care of your own teeth, and don't be a stranger to your dentist! This way, your entire family will have healthy and beautiful smiles both this month and all that follow, and you'll be doing a service to your bodies as well.
To get more dental tips you can use every day, learn more about how oral and overall health are interconnected, or ask any questions, you're invited to contact Dr. Michael Kirk today.