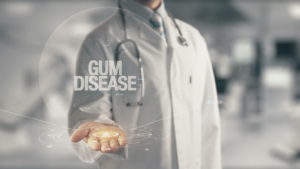 What do you think is the most common disease in the world? Diabetes? Heart disease? Those are good guesses, but they are both way behind the correct answer: gum disease. It is the most prevalent dental problem in the entire world, and for many, it can harm way more than just their smile. February is actually Gum Disease Awareness Month, so today, your dentist in Oklahoma City, Dr. Michael Kirk and Dr. Dan McNair, are going to share the signs you should look out for as well as how you can keep gum disease at bay.
What is Gum Disease?
Gum disease is actually another name for periodontal disease, and it refers to a bacterial infection that develops on the gum tissue, roots of the teeth, and the bone that supports them. It can be caused by many factors, with the most common being a lack of oral hygiene, a sugar-rich diet, and genetics.
The most common signs of gum disease are:
Red, swollen, or tender gums
Gums that bleed easily
Gum recession
Chronic bad breath
A persistent bad taste in the mouth
Loose teeth
Tooth loss
Gum disease is actually the number one cause of tooth loss for adults around the world, and if left untreated, it has been shown to drastically increase a person's chances of developing other systemic health problems, including diabetes, heart disease, stroke, and even dementia.
Can Gum Disease Be Treated?
So if you experience any of the symptoms above, is it too late for you? Fortunately, no! Gum disease can be treated in a variety of ways. One, there are numerous take-home products that are specifically designed to battle the infection, including special toothbrushes, toothpastes, rinses, and prescription medications.
Your dentist is also a valuable resource in the fight against gum disease. They can provide what is called a scaling and root planing treatment, or "deep cleaning," which allows them to systematically remove any harmful plaque and bacteria from along your gum line and also reshape your teeth's roots in order to lower your risk of reinfection.
How Can I Prevent Gum Disease?
Fortunately, there are also numerous things you can do that will drastically lower your chances of developing serious gum disease in the first place:
Brush your teeth twice a day and floss at least once, paying special attention to clean your teeth below the gum line. This will help prevent the plaque buildup that can lead to an infection.
Lower your consumption of foods that have a lot of added sugar, i.e. soda, candy, starchy snacks, etc.
See your dentist at least twice a year for checkups and cleanings.
At Grand Dental Studio, Dr. Michael Kirk and Dr. Dan McNair will examine the condition of your gums at every regular visit. That way, should they spot any signs of an infection, they'll be able to catch it early and apply gum disease therapy quickly.
While gum disease may be very common, that doesn't mean it's inevitable for your smile. By keeping an eye out for common symptoms and following the tips we listed above, you can make sure this global problem is never an issue for your smile. To learn more about gum disease and what you can do to prevent it, contact us today.