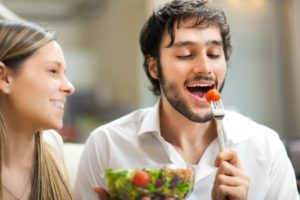 You've probably been told since you were a small child that taking care of your teeth will prevent cavities, but did you know that having a healthy mouth also makes you much less likely to develop cardiovascular disease, diabetes, and dementia? It's true! The mouth is the gateway to the body, so its health directly affects overall health. In honor of today, World Oral Health Day, your Oklahoma City dentist, Dr. Michael Kirk, is going to share a few easy tips on how to take care of your mouth that will safeguard your health for years to come.
Tip #1: Brush and Floss…Correctly!
Everyone knows that they should brush and floss their teeth every day, but are you sure that you are doing it the right way? You want to make your home routine as effective as possible, right? Maintaining a consistent brushing routine isn't only great for your teeth and gums, but it will also control the levels of bacteria in your mouth that can lead to all of the nasty things we touched on earlier.
You should brush twice a day and floss once in the evening, but one detail that most people miss is brushing for long enough. You should brush for at least two minutes each time. Most people have no clue how long they brush, and it's likely too short! Put on a little timer so you can make sure you're brushing long enough, spending about 30 seconds on each quadrant of your teeth. For children, you can play a short song during this time to make things a little more fun (of course, you can use a song as well… we won't tell anyone!).
Tip #2: Watch Out for Sugary Snacks!
The bacteria in your mouth's main source of fuel is the sugar that is left on your teeth from the foods you eat. When the bacteria consumes this sugar, it produces acidic plaque that can lead to cavities and gum disease. So, more sugar in your diet means more plaque which means MORE dental issues. Limiting your consumption of foods with a lot of added sugar, such as sodas and starchy snacks, will help mitigate this issue, plus it will be great for your overall health as well!
For children, one big source of sugar to look out for is juices. They might seem healthy, but look at the nutritional facts on the side of the box…most juices are packed with sugar! When your child is just thirsty and needs a drink, water is the best way to go, and that's true for adults as well!
Tip #3: Don't Be a Stranger to Your Dentist!
Most oral health problems start with very minor or even no noticeable symptoms, and this often allows them to go undetected until they turn into a much bigger issue that can affect not only your mouth, but your entire body. How can you make sure a dental problem doesn't sneak up on you? Just see your dentist at least twice a year for checkups and cleanings!
When you visit Dr. Kirk and Dr. McNair for a regular checkup, they'll be able to spot any issues you might have way before you can thanks to their experience and trained eyes. That way, they can quickly intervene before something small can become something large. They'll even be able to clean those areas in your mouth that your tools at home simply can't reach. By coming to see them regularly, you can have the peace of mind that your mouth and body are always in good shape.
As you can see, taking care of your oral/overall health isn't that complicated. By following these tips throughout the year, your smile will stay strong, and your body will be much healthier as a result.
At Grand Dental Studio, we're always ready to help our patients reach their health goals by providing comprehensive, top-of-the-line dental care. To learn more about how your oral and overall health are connected and what you can do to protect both, contact us today.