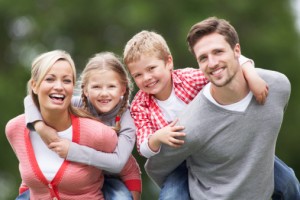 Taking care of your family isn't only a matter of doing a lot, it also requires thought and planning. What's for dinner tonight? To answer this question, you have to think about what to serve and what to buy at the grocery store. Your son has softball practice tomorrow after school. Better make sure his uniform is clean. This weekend is your daughter's birthday. Are the plans set and the party favors ready? Just thinking about all there is to do can be tiring!
One thing you don't have to think about is your family's dental health. Just schedule an appointment with Dr. Michael K. Kirk or Dr. Janice Henry at Grand Dental Studio—the family dentist Oklahoma City, OK, turns to for a comprehensive menu of general dentistry services—and we'll take it from there. From exams and cleanings to TMJ therapy and gum disease therapy, we have the treatment that you or a family member need to enjoy a smile that is healthy and attractive.
Exams and Cleanings
The cornerstone of family dentistry is a dental checkup. In keeping with the recommendation of the American Dental Association, Dr. Kirk encourages his patients to schedule checkups every six months. At these regular visits, Dr. Kirk and his staff of dental hygienists and assistants will clean your teeth and carefully check for any signs of tooth decay. When necessary, we'll take digital x-rays to find decay that may be hiding in between teeth or just below the surface. In addition, we'll evaluate the health of your gums and other soft tissue. We'll conduct an oral cancer screening and check for symptoms of temporomandibular (TMJ) disorder.
Of course, if a problem is discovered, then family dentist Dr. Kirk will want to treat as soon as possible. For example, a small cavity can be repaired with a tooth-colored filling—a much more practical and less expensive option than allowing decay to spread and necessitate more extensive treatment. Likewise, if a tooth is cracked, we can preserve the tooth with a dental crown that is both strong and natural-looking.
Fluoride Treatment and Dental Sealants
For the youngest members of your family, Dr. Kirk will likely recommend a fluoride treatment and dental sealants. Children sometimes have trouble adequately brushing and flossing, so these treatments can be helpful.
Fluoride is a mineral that has been proven to strengthen teeth's enamel, the first line of defense in the battle against tooth decay. At Grand Dental Studio, we offer fluoride rinses in a number of tasty flavors. With one quick swish around the mouth, your kids' teeth will have a better chance of staying healthy.
Dental sealants form a protective barrier between teeth and decay-causing bacteria. Food particles and debris can easily hide in deeply grooved and pitted molars. Sealants start out as a liquid that is applied to your children's back teeth and then dried with a curing light. Once hardened, dental sealants form a solid shield against cavities.
Call Our Office Today
Schedule an appointment with the family dentist Oklahoma City, OK, depends on for complete and professional family dentistry services. Grand Dental Studio proudly serves patients from the surrounding communities of Midwest City, Deer Creek, Yukon, Edmond, Moore, Nichols Hills, and other neighboring areas.