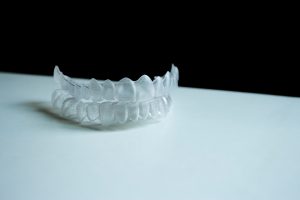 Did you know getting a straighter smile with Invisalign offers more than just an attractive smile? In addition to a more aesthetically pleasing smile, proper tooth alignment also offers numerous oral health benefits. Using Invisalign in Oklahoma City, you can quickly and easily get the straighter smile you have always wanted while also giving your oral health a boost. With properly aligned teeth, you reduce the risk for developing a wide range of oral complications, such as tooth decay, gum disease, and you will even lessen the risk of certain injuries. As your dentist in Oklahoma City, Dr. Kirk, Dr. McNair, and Dr. Henry have the benefits you need to know about getting a straighter smile with Invisalign.

Oral Health Benefits of Invisalign
As your cosmetic dentist in Oklahoma City, we offer the latest dental advancements to enhance the level of care you receive. Among one of those advancements is Invisalign. Invisalign offers an alternative orthodontic treatment to traditional metal braces. Using clear aligner trays that are worn over the teeth, the teeth are realigned into their proper positions. The nearly invisible treatment option will properly align your teeth to resolve crowding, gaps, rotations, and certain bite problems.
Once your teeth are properly aligned, you will begin to enjoy many added oral health benefits along with your new smile. Properly aligned teeth are easier to keep clean with regular brushing and flossing. As a result, you will decrease your risk for tooth decay. When the teeth are overcrowded or overlapping, it is difficult to keep the areas between the teeth clean. As a result, cavities are prone to develop in these locations. However, once your teeth are aligned, brushing and flossing are more effective, allowing you to protect your new smile from decay.
Properly aligned teeth also decrease your risk for developing gum disease. When the teeth are misaligned, it can be difficult to properly floss the teeth. As a result, you will develop a plaque accumulation, which allows a bacterial infection to develop in the gums. This infection can lead to serious oral health problems, such as tooth loss. Not to mention, gum disease directly impacts your overall health, increasing your risk for serious complications, like cardiovascular disease. With a properly aligned smile, you can thoroughly floss in between each tooth to decrease your risk for gum disease.
Misaligned teeth are also prone to injury, especially those that protrude or are rotated. Teeth that stick out from a poor bite or from misalignment often take the brunt of the force from an injury. As a result, these teeth are likely to become chipped or cracked. By aligning your smile, you will help protect your teeth in the event of trauma or injury to the mouth.
Invisalign Dentist in Oklahoma City
If you have been considering straightening your teeth with Invisalign for a more attractive smile, it is time to schedule a consultation. You will not only gain added confidence with straight teeth, but you will also promote your oral health. Get the best of both worlds with Invisalign in Oklahoma City.