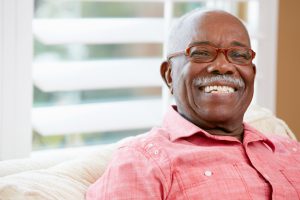 Dental implants are quickly becoming the most popular option in tooth replacement, and it's no surprise why. They are the only comprehensive option available, meaning they give you back your missing tooth as well as its supporting root. Can you name the three parts of a dental implant? Or the differences between dental implants and other options? Your implant dentist answers questions about dental implants in Oklahoma City, OK below. With extensive postgraduate work from the University of Texas as well as years of first-hand experience, Dr. Kirk is highly experienced in the placement and restoration of dental implants. He handles the whole process from the comfort of our state-of-the-art office.
Q: What are the different parts of a dental implant?
Dental implants are made up of three components placed in two major phases: initial implantation and final restoration of the dental implant. The parts of a dental implant are…
The dental implant itself. It's a tiny titanium cylinder that is buried beneath the gum line, where it gradually fuses with the jawbone in a process known as osseointegration.
The abutment. This small part is what links the dental implant with the prosthetic tooth. It is attached months after the initial implantation, once osseointegration is complete.
The prosthetic tooth. A crown or denture can be supported by dental implants. Six to eight months after the dental implant is placed beneath the gum, the final restoration can take place.
Q: What's the difference between dental implants and other options?
A non-implant retained tooth replacement doesn't provide the prosthetic tooth with a supporting root. That leads to jawbone deterioration and an ill-fitting denture or bridge over time. With the stability and stimulation provided by dental implants, oral health is maintained and patients can eat, speak, and smile with confidence for years to come. And when cared for properly, dental implants can last for a lifetime. Non-implant retained options will need to be relined or refitted several times.
Q: Who is a good candidate for dental implants?
Don't try to guess whether or not you can have your teeth replaced with dental implants. Contact our office to discuss your eligibility for implant dentistry instead. In general, patients should have plenty of supporting jawbone structure for successful anchoring of the implant. If too much bone has already been lost as a result of the missing teeth, bone augmentation procedures (like sinus lift or bone grafting) can help. Patients should also be in adequate overall health, free from health conditions that affect the immune system — like HIV/AIDS, advanced cancer, and diabetes.
Let's Discuss Your Dental Implants Today!
If you'd like to begin on your tooth replacement journey, let's start by examining your candidacy for dental implants. Get in touch with Grand Dental Studio to discuss how implant dentistry can work for you. Dr. Kirk, Dr. McNair, and Dr. Henry are here to guide you through your journey to enjoying a complete smile once again — schedule an appointment with your dentist in Oklahoma City, OK today!