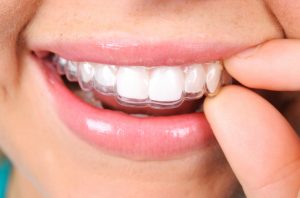 October is a very interesting month. Not only does it usually bring about the beginning of Autumn and therefore relief from the Oklahoma heat, but it ends with the biggest costume party of the year with Halloween. It is even National Pizza Month for good measure.  It also happens to be National Orthodontic Month. This is a month to acknowledge the discipline of orthodontics, as well as those who practice it. Invisalign is one of the most modern orthodontic treatments offered today. While many practices offer it, not all of them are Preferred Providers such as Grand Dental Studio. In the spirit of the month, we're going to tell you what this means and why you should get Invisalign in Oklahoma City, OK.
Why Should I Get Invisalign from Grand Dental Studio?
Invisalign is the popular aligner tray system that many people are using to straighten their teeth. Patients tend to prefer Invisalign over traditional braces because of its comfort, flexibility, and near invisible appearance. This is why it is commonly the choice of image conscious adults and older teens. You may already know that you want Invisalign, but how do you go about choosing a cosmetic dentist in Oklahoma City, OK?  Grand Dental Studio brings a special kind of experience when it comes to this specific treatment, and it all starts with your doctors.
Meet the Doctors
Dr. Michael Kirk has served Oklahoma City for over 15 years. He is a completely homegrown product, having been born in Oklahoma, as well as getting both his BS and DDS degrees from the University of Oklahoma. He continued his education and became certified in dental implants from the International Congress of Oral Implantologists in 1999. He currently maintains memberships in the American Dental Society, the Oklahoma Dental Association, and many others.
Dr. Dan McNair is continually furthering his education as dentistry develops. He feels there is always more to learn and always a better way to serve people. He graduated with honors from Ouachita Baptist University in 2004, and got his DDS degree from the University of Oklahoma in 2008. He takes special care to listen to his patients and treat them as thinking, feeling human-beings, not just patients.
Dr. Janice Henry has brought her wealth of experience to Oklahoma City for the past 23 years. She chose dentistry because it allowed her to best get to know the people she would be helping. She got her DDS degree from the St. Louis University School of Dentistry in 1969, and has accrued over 300 hours in continuing education since then to help hone her craft.
You benefit from all of this skill and experience whenever you visit Grand Dental Studio for Invisalign, which is why they are an Invisalign Preferred Provider.
What Is an Invisalign Preferred Provider?
This means the doctors have received training specifically pertaining to Invisalign so they can be as familiar with the system as possible. This ensures that not only will you get the best result possible, but the process will be smooth and seamless. Not every practice that offers Invisalign is designated a Preferred Provider, so given the choice, it's easy to see why Grand Central Studio would be the best place to get it.
Any Questions?
If you have any questions about Invisalign, or what it takes to become a Preferred Provider, please give us a call today. Our expertise is meant to serve you, so we'd be more than happy to be the ones to help straighten your smile.