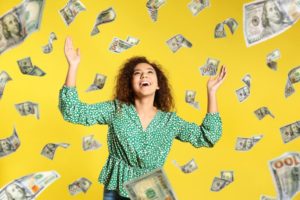 At this time of year, everyone is looking to save money, and that is especially true given the unique circumstances of 2021. In addition to the impending holidays, people are still feeling the strain of the pandemic, so anything that can help them spend less while getting what they need is welcome. Fortunately, if you have dental insurance, there are 3 ways you can maximize your benefits before 2022. Not only will this be great for your wallet, but your smile as well!
Why the Rush?
Most dental insurance plans have what is called a yearly maximum, which is the most it will pay for dental care for each individual on the plan in a given year. On average, this amount is about $1,500. The thing is, this maximum resets at the beginning of each year and does not roll over, no matter how much a person has left. So, if January 1st, 2022 comes around, and you have $1,000 left on your dental insurance, it simply disappears, meaning you miss out on benefits you already paid for.
Simple Ways to Maximize Your Dental Insurance
If you still have money left on your dental insurance, here is how you can make the most of it before it's gone:
Schedule a Checkup & Cleaning: Have you only had one checkup and cleaning this year? Most dental insurance plans pay for two each year, meaning you won't spend any money out of pocket when you come in. Regularly visiting the dentist for these preventive treatments can help you avoid most dental issues and make sure minor problems are taken care of quickly before they turn into big (expensive) ones.
Fix That Broken/Chipped Tooth: Dental insurance can help offset the cost of a veneer or crown used to repair a damaged tooth. Why do this now as opposed to waiting until next year? Because in 2022, you'll have to pay your deductible before you gain access to your benefits. If you've already met your deductible for 2021, having your tooth repaired soon will cost much less compared to waiting.
Start a Large Treatment Plan: If you're thinking about getting dental implants or a smile makeover, you can begin the process now while saving significantly, because dental insurance will mostly or completely cover things like consultations, X-rays, and other services used to plan complex treatments.
Less Stress, More Smiles
The end of the year is typically a stressful time, but do you know what could make it worse? An unforeseen dental problem! Before the parties, shopping, and trips of the season start to fill up your calendar, a quick trip to the dentist can ensure that your mouth is healthy and that your plans won't be ruined by a surprise dental problem. Plus, you'll enjoy the peace of mind that you're making a smart decision for both your financial and oral health!
About the Author
Dr. Michael Kirk is a family, cosmetic, and implant dentist who has had the honor of serving the Oklahoma City area for more than 25 years. If you have dental insurance, then he and his team are ready to help you maximize it before your benefits reset in January. To learn how we can help you get every dollar you deserve from your coverage, contact Grand Dental Studio today.