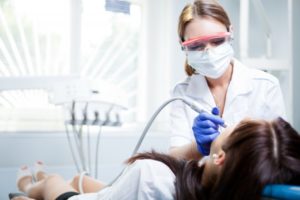 Do dental hygienists just clean teeth all day, every day? While this might make sense on the surface, performing thorough cleanings is actually just a fraction of what a hygienist does in a dental office. They are an essential part of every practice, and to see why, you'll find a list of all the duties they perform to help their patients achieve and maintain healthy, beautiful smiles.
1. X-Rays & Impressions
At the beginning of an appointment, it's common for a hygienist to take an array of X-rays so they and the dentist can examine the underlying roots and bone supporting a patient's teeth. For those that need dental implants, dentures, or other appliances, they can also create digital impressions.
2. Patient Screenings
The first person to look at your teeth when you visit the dentist will likely be a hygienist. They'll give you a quick pre-exam and ask if you are experiencing any issues so they can pass this information off to the dentist. This way, the dentist is able to focus on what matters most to the patient and save them time.
3. Patient Education
When it comes to oral hygiene, dental hygienists are experts (it's right in their name!), so they field a lot of questions when it comes to brushing and flossing. Many patients need help learning how to properly care for their teeth at home because they were never taught how to do so in the first place. And, if a patient is thinking about getting a more advanced procedure, like a crown or implant, they might ask a hygienist about it first, and they are more than able to help.
4. Patient Counseling
Going to the dentist is a very stressful experience for many people, so part of a hygienist's job is to help a patient feel calm and comfortable in the chair. Because cleanings usually happen at the beginning of an appointment, a hygienist's ability to soothe a patient is important to ensure that the rest of the visit goes smoothly.
5. Provide Treatment
In addition to cleanings, hygienists are also able to give fluoride treatments, apply sealants, and perform scaling and root planing for patients with mild gum disease.
6. Collaborate with the Dentist
Typically, a hygienist will have just as much experience with a patient as their dentist, so their input when it comes to choosing which treatments would best suit someone's needs is extremely valuable. A dentist will often consult with a hygienist before proposing a care plan to a patient so they have as much information as possible.
In truth, every member of the team at the dental office is important when it comes to your care, from the front desk to the assistants to the hygienists to the dentist themselves. By working together, they're able to deliver stellar dentistry and service so that taking care of your teeth is always easy, comfortable, and predictable.
About the Author
Dr. Michael Kirk is a family, implant, and cosmetic dentist who has served the Oklahoma City area for almost 30 years. He is proud to work with a team of excellent hygienists who he trusts to treat our patients like members of the family while providing world-class care. To come experience our team's award-winning service for yourself, be sure to schedule an appointment today by clicking here.