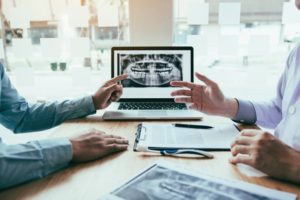 Gum disease and Alzheimer's disease are two conditions that affect millions of people around the world, but new research has revealed a relationship between the two, indicating that the presence of one may actually lead to the other. How does this work? Can an oral infection really cause serious cognitive issues? To learn a little more about this connection and what steps you can take to protect both your brain and smile, read on below.
The Cyclical Relationship of Gum Disease & Alzheimer's
Several studies have been performed where researchers looked at the donated brains of Alzheimer's patients, and they found a particular type of bacteria that gave them pause: Porphyromonas gingivalis. The reason it caught their attention is because this is one of the main pathogens that causes the gum infection that is called gum disease.
They also observed that brains with this bacterium often had a high level of beta-amyloid, a protein that accumulates in the brains of those suffering from Alzheimer's that forms plaques. Right now, beta amyloid is believed to be produced in response to infections in the brain, so the presence of bacteria like P. gingivalis could easily be seen as the source of this response.
The hypothesis is that once a person develops gum disease, because the gums are extremely vascular structures (as in they have a lot of blood vessels), it's easy for P. gingivalis to enter the bloodstream, make it to the brain, and cause an infection that ultimately leads to an immune response that is seen to correlate with Alzheimer's symptoms.
While this relationship is certainly interesting and deserves more attention, the science is not clear enough for health officials to say, "Gum disease increases your risk of developing Alzheimer's." Firstly, it is uncertain whether Alzheimer's can be triggered by a bacterial infection, plus beta amyloid isn't known to be a definitive cause either. Another possible reason that these conditions are connected is much simpler—those with Alzheimer's have more difficulty consistently cleaning their teeth due to cognitive and physical impairments, leading to a higher rate of gum disease.
What This Means For You
While the causal relationship between gum disease and Alzheimer's is currently being investigated, what is certain is that your oral health has a direct impact on your overall health. This is particularly true when it comes to gum disease, which has also been shown to be associated with a higher risk of cardiovascular issues like heart attack and stroke.
Thankfully, keeping your mouth healthy and free of infection is relatively easy if you follow a few straightforward practices:
Brush and floss at least twice a day for two minutes each
Floss in the evening to remove plaque and food particles from between your teeth
Limit your intake of foods with a lot of added sugar (excess sugar on the teeth stimulates bacteria production)
Visit your dentist for routine checkups and cleanings every six months
If you notice the symptoms of gum disease (red, swollen, sensitive gums or loose teeth), schedule a dental appointment right away.
It's always good for your health to take great care of your mouth, and soon enough, we may find out that regular brushing and flossing are two of the best ways to protect your brain as well!
About the Author
Dr. Michael Kirk is a dentist in Oklahoma City who has been serving the area for more than 25 years. He works diligently to stay on top of the latest research so he can keep his patients informed. He also places a strong emphasis on preventive dentistry in order to preserve people's smiles while also safeguarding their overall health. To learn more about how your oral health affects the rest of your body, or to schedule an appointment, click here to contact our office.