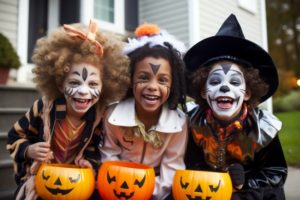 Dentists are very clever. With Halloween just around the corner, they've designated October as National Dental Hygiene Month. This is a time that invites everyone to take a fresh look at how they are caring for their teeth and make small changes that can lead to big improvements. Before you and your family enjoy a tsunami of candy in the coming weeks, you can make sure your smile stays bright and healthy thanks to these often-overlooked tips.
Always Brush for Two Minutes
Do you know how long you brush each day? You might not ever think about it, but you should!
According to the American Dental Association, brushing for two minutes twice a day is the sweet spot. It's long enough to remove a lot of plaque and other nasty things that can cause cavities, but it's not so long that the activity seems endless (plus you won't accidentally damage your enamel and gums).
If you have an electric toothbrush, it probably already keeps the time for you. But, if you and your kids typically use manual brushes, setting a timer (or finding a two-minute song!) will ensure your teeth are getting the attention they deserve.
Swish Throughout the Day
Ideally, you should be brushing and flossing twice a day, once in the morning and evening. However, in the several hours between those sessions, your teeth are exposed to a lot of food particles and bacteria that can cause acidic plaque to develop. What can you do about it?
A simple measure is to swish with unflavored water throughout the day. This will naturally clean your mouth, encourage saliva production, and keep you hydrated at the same time.
Candy Hacks
You've probably heard since you were a small child that eating too much candy is bad for your teeth, but it's Halloween season—half the fun comes from eating more candy than normal! So, what can you do to mitigate the potential damage to you and your children's pearly whites?
Firstly, on Halloween night, let everyone enjoy a piece or two (or three…) of candy, and then put it all away in a hiding spot that only you know about. Don't leave it out in the open—that will encourage people to graze. In the coming days, the smart thing to do is only have candy after you have eaten a healthy meal. This will naturally minimize everyone's desire to overindulge on sugary treats and make it easier to space out your stash. A little candy over a long period of time is fine, and pairing sweets with meals minimizes the potential harm they can do to teeth.
The weather is FINALLY cooling off, and the fun of Halloween parties and trick-or-treating is upon us. By taking advantage of these simple tips, you can have peace of mind that you and your household will have bright and healthy smiles heading into the holiday season.
About the Author
Is it time for your next dental checkup? If so, then Dr. Michael Kirk would love to see you! A graduate of the OU College of Dentistry, he has been taking care of Oklahoma City families for over three decades, and even though he is a dentist, he enjoys candy and Halloween just as much as anyone. You can schedule a FREE first visit by clicking here or get in touch with our team by calling (405) 848-3719.