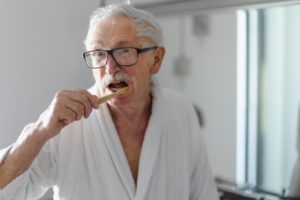 The body changes a lot as the years go by, and this includes the parts that make up your smile. While consistent brushing, flossing, and dental visits will serve you well no matter your age, the undisputed fact shown by extensive research is that as we get older, our risk of gum disease grows just like the number of candles on our birthday cakes. Why does this happen, and more importantly, what can you do to keep yourself healthy this year, next year, and for many to come?
Mobility Issues
Alongside gum disease, issues like arthritis become more likely over time, often limiting someone's manual dexterity to the point that they can't brush and floss adequately. This allows harmful bacteria to linger on the teeth and gums and potentially cause an infection.
Medication
We all remember an older family member from our childhood having a pill case with the days of the week on it, and suddenly, you have one of your own! Many medications for issues such as cardiovascular disease and high blood pressure are known to cause dry mouth. This lack of saliva limits your mouth's ability to naturally clean itself to remove leftover food particles and bacteria, which creates the perfect environment for gum disease.
Nutrition
When someone is unable to chew properly because of missing teeth and/or an ill-fitting denture, their diet tends to include more processed and palatable foods that are easy to eat. These tend to be very high in calories, particularly from added sugar. Oral bacteria use excess sugar as energy to grow and spread, meaning a less nutritious diet can directly contribute to an elevated chance of gum disease.
What Can You Do?
Even though you can't stop time, there are ways to lower your risk of gum disease despite your date of birth. A few of the best practices include:
Invest in an electric toothbrush and easy-to-hold flossers if you have trouble moving your hands.
Keep up with routine visits to your dentist so they can find gum disease early and treat it quickly if it occurs.
Talk with your dentist about replacing your missing teeth with a denture or dental implants so you can easily eat more nutritious foods.
Sip water throughout the day if you regularly experience dry mouth due to medication.
Growing older is a privilege, but it certainly isn't easy! With the right daily care and forethought, you can enjoy a bright and healthy smile this decade and for multiple ones to come.
About the Practice
Dr. Michael Kirk has been looking after Oklahoma City smiles for more than three decades as a family, cosmetic, and implant dentist. He's joined by Dr. Neeral Patel, a standout graduate of the University of Oklahoma's Advanced Education in General Dentistry program, one of the most elite residencies in the country. They work proactively to help our patients avoid the most common dental problems, including gum disease, so they can spend more time living and less in our office! If you're concerned about gum disease or are ready to replace your missing teeth, contact us today to learn more about your options.